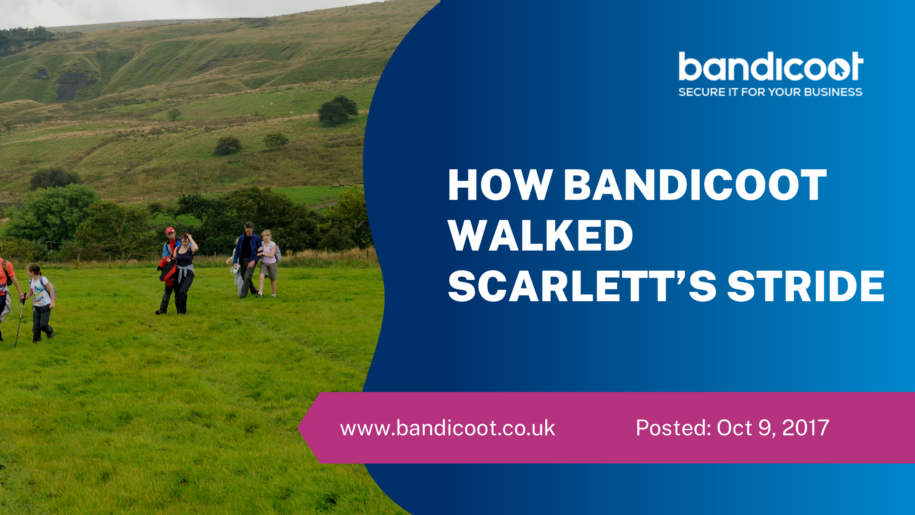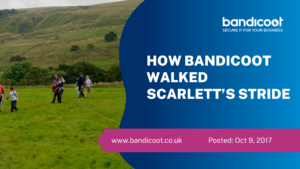 As providers of specialist IT support and web services, we're certainly not desk-bound, and our recent family expedition to Cliviger proves the point.
Yes, Bandicoot walked Scarlett's Stride, a rugged, eight or twelve-mile route named after General Scarlett, hero of the Crimean War, whose adopted home was Burnley.
Volunteers organise the walk, providing refreshments along the route, and cakes at the finish! People pay a small sum to take part and all the proceeds go towards the upkeep of a local church, St John the Divine, in Cliviger.
We're very much a family IT support business, and as a family we walked Scarlett's Stride – my husband Stuart, Bandicoot's founder, my son, Jamie, his friend, Rio, and me, Anna, helping out with Bandicoot's admin, HR and marketing.
Raising Funds with a Resurrected Walk
The Church of St John the Divine at Cliviger, dates from the 16th century – it was consecrated in 1787. It's Burnley's second oldest church and, because of its age, it's been facing an uphill struggle.
Six years, ago, the residents organised a fundraising walk, along Scarlett's Stride, to begin raising the estimated £300,000 needed for urgent repairs to the grade 2 listed church.
With the roof needing a complete overhaul, the fear was that the church would be forced to close permanently. With a great show of community spirit, the residents decided on a sponsored walk event to attract attention and work towards putting the money together.
In fact, it was a resurrection of sorts, since previously there had been annual walks along the Scarlett's Stride route to raise funds for routine upkeep of the church.
Since reviving the concept, the annual Scarlett's Stride walk has been a great success, and the church's works are needing completion. This year's Scarlett's Stride had nearly 100 walkers!
Now it's a case of keeping the momentum of the walks going, and to keep raising money annually for the church's upkeep, matching the funding that English Heritage has provided.
Around Cliviger and Hurstwood
The walk is very scenic, taking in the countryside around the Parish of Cliviger, and Hurstwood. It's either eight or 12 miles in length, depending on your fancy, and it can be challenging in parts.
Altogether, there's around 2,000 feet of climbing, but you're rewarded with some fantastic local scenery – and a huge sense of achievement, of course.
The walk starts and finishes at the church, and takes in Hurstwood, Cant Clough, Sheddon Clough and Heald Moor, among other areas.
Hurstwood itself is a hidden gem of natural beauty, and quite remote. You can only reach it by narrow roads and paths crossing fields. Its set in the valley of the River Brun. This is where Burnley gets its name from. It's also the location of Spencer Cottage, dating from Tudor times.
This cottage was the home of the poet Edmund Spenser, in his youth, from 1576 to 1578. His most famous work is the Faerie Queen, which he wrote for a local girl, Rose Dynely, of the Townley Family. It didn't have the desired effect, unfortunately, so Edmund packed his bags for London.
This turned out to be a wise move: he made his fortune there, dedicating his work to Queen Elizabeth.
A Local Hero
Scarlett's Stride is named after General Scarlett, later Sir James Yorke Scarlett. Although he was born in London and educated first at Eton then at Trinity College, Cambridge, he married a local Burnley heiress and settled in the area.
In 1854, close to retirement, Scarlett was appointed Brigadier-General of the Heavy Brigade of Cavalry, and went to fight in the Crimean War (in the modern Ukraine area).
At the battle of Balaclava, Scarlett's Heavy Brigade repelled an unexpected attack from Russian forces. The Russians numbered some 2,000 men, while Scarlett had to quickly assemble 300 of his cavalry
He sounded the charge and advanced uphill against the oncoming, numerically-superior Russian force. Defying all military doctrine of the time, the charge was a success, repelling the Russians.
Major Alexander Elliot commemorated this Charge of the Heavy Brigade in an 1860 painting.
Immortalised in Tennyson's poem, the unsuccessful, tragic military miscalculation of the Charge of the Light Brigade has since overshadowed Scarlett's considerable achievement.
After Balaclava, Scarlett, now promoted to major-general, served in China, then Aldershot, before becoming an MP for a time.
He died at his estate in Bank Hall, Burnley, and he's buried in the Church of St John the Divine in Cliviger.
The people of Burnley gave him a good send-off, with some 60,000 of them lining the streets for his funeral procession.
Our Hike
We were all up for the challenge, and we had our family ticket, but even so, I was impressed with how the two boys tackled it. The both did tremendously well, especially as Rio had never done any hiking before.
Our son Jaimie, however, is something of hiking veteran, as he's been hiking with us since he was six.
One time, he did the Fairfield Horseshoe, when he was seven years old. This is a circular hill-walk along a ridge, in the Lake District, and it's pretty challenging. It's 11 miles and takes in eight peaks. It took us seven and a half hours, but at the end of it Jaimie wanted to play tig! So, really, Scarlett's Stride wouldn't be a problem for him.
What does this say about Bandicoot? Well, we are a tight little family with a strong commitment to our local community, while also making sure we take the time away from our work concerns, to lead a balanced life. This translates into our business-we treat associates and customers like we would want to be treated and work hard to benefit businesses in Burnley, Rossendale and beyond by providing honest, upfront IT support.
We live in a beautiful part of the country, so it's nice to celebrate that fact, and to give something back to it, whether that is by providing IT support to local businesses, or enjoying a family hike to support a local historic church.
Get In Touch
We provide IT support and services, and build and host websites for businesses in Burnley and Lancashire. Helping the local community is something that's very important to us, so we combine a thorough grounding in local knowledge with an expertise that can help take you as far as you want to go. Our services are listed here.