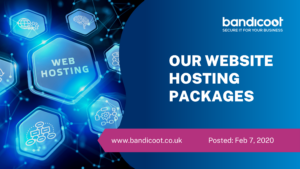 You might be starting out your exciting new business or looking to revamp your online presence then let us tell you about our website hosting packages and unlike most website hosts, we aren't based in London!
2020 is an Olympic year, this time they are due to be held in Tokyo. Which seems like a good if slightly tenuous way of leading up to explain our Bronze, Silver, Gold & Platinum website hosting packages.
But first, a bit of background information on website hosting.
What Are Static And Dynamic Websites?
If you have been looking into websites and website hosting you may have read about static websites, dynamic websites and wondered what on earth the difference is between the two.
So, a static website is a website that doesn't require any programming, with each page of the website being stored as an html page.
The information on the website doesn't change, hence the use of the word static.
A dynamic website is a website that will change, depending on factors such as the time of day, who is viewing, the country there are viewing it in, language and other factors.
As to whether you should have a static or dynamic website is entirely up to you, they both have advantages and disadvantages.
If you aren't sure or would like some more information on the differences between static and dynamic websites then we would recommend having a quick look at this video and then get in touch with us here at Bandicoot Towers, we will be more than happy to give you our advice.
Ok, let's get back to our Bronze, Silver, Gold, Platinum Website Hosting Packages.
Bandicoot Bronze Website Hosting
The first in our website hosting range is our Bronze service. With this particular package we will provide you with a static HTML website.
The Bronze package also comes with 24/7 website monitoring, as all of our website hosting packages do.
So, you can be sure that if there is an issue or problem with your website, we will be able to resolve it, no matter what time of day or night.
Bandicoot Silver Website Hosting

The middle of our website hosting range is our Silver service.
With this package you will get a WordPress website with a MySQL Database.
There are other website creation applications out there, but it is pretty much agreed that WordPress is the most popular tool used to create websites these days.
It's easy to use and intuitively designed, so you don't get bogged down in coding and technical language.
Another reason why WordPress is so popular around the world is that it is an open source tool.
So, it is always being updated and improved, with plug-ins being created and issued daily.
Speaking of which, we will make sure that your WordPress website is updated, so you don't have to worry about keeping on top of that.
Here at Bandicoot Towers we are big fans of WordPress, so if you would like to pick our brains then please do give us a call.
The other service we mentioned there was a MySQL Database. This is an easy to view and edit way of storing all the information on your website.
So, you don't have to learn a programming language first!
Bandicoot Gold And Platinum Website Hosting
Our Gold Website Hosting package offers all of the features from our Silver package, with one added extra; A SSL Certificate for the site and for the security of your customers.
SSL stands for Secure Sockets Layer and it is a global technology standard for protecting sensitive data and information on websites.
If you have ever seen a little padlock icon when you are on a website, then it will have an SSL Certificate.
It is a way of protecting and encrypting communications and transactions from web browsers to web servers.
So, if you are looking to have a website that would store passwords or personal data (addresses, phone numbers) of your users then you should have an SSL Certificate.
If you are looking to be able to make financial transactions on your website that will record the bank details of customers, you should make sure you have an SSL Certificate.
You will also need an SSL Certificate if your website would be storing legal or medical documentation.
Our platinum service also includes the update of any compatible WordPress plugins as and when they are released.
Get In Touch
If you would like to have a chat with us about our website hosting services or any of the other IT services that we provide then please do not hesitate to contact us.
Our team of friendly experts can be telephoned on 01282 506 616 or you can contact us via our online form here.