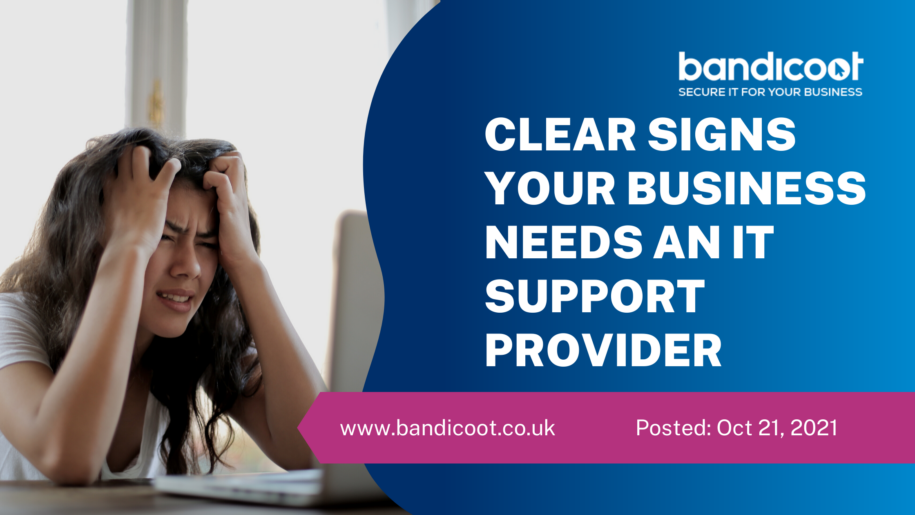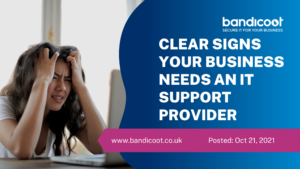 When your business has just got up and running, you may be thinking to yourself 'Do I need an IT support provider or is it an additional cost that I can't afford?'
Change your thinking and mindset for a second. You may be thinking, I can't afford to invest in a professional IT support company. But with so much of the modern workspace depending on IT infrastructure.
The question should be, can you afford not to?
With internal communication, data analysis, and cloud services at the heart of your business, smooth-running IT is essential while having IT support you can trust is worth its weight in gold.
In this Bandicoot blog, we are going to showcase the clear signs and struggles of a business that doesn't have an IT support provider and why it's crucial for your business to have one.
Top 3 Signs your Business Needs An IT Support Provider
1.      Security Breach
Cyber-attacks are unfortunately a part of life for a modern business. The majority of businesses in the UK have experienced some form of attack at least once in 2018. However, for 17% of UK businesses, security breaches are a monthly occurrence, with a very unlucky 5% suffering cyber-attacks daily.
Security breaches impact your business like no other. Not only are they expensive to fix, but they stop staff productivity/efficiency and damage your businesses reputation. If you have suffered numerous security breaches, your reputation may never be repaired.
Ultimately the time has come to invest in IT support.
A good IT support provider will offer you:
Security updates and antivirus software
Office 365 support and backup
Email virus and spam protection
Annual strategic IT review and audit/report
Complete peace of mind
Security breaches happen to the best of us, by partnering with an experienced IT support provider you have complete peace of mind knowing your hard work is protected.
2.      Your Business Is Expanding
Growth is an exciting time for a business of any size, let alone new/small businesses. However, without the right, IT support, expanding out into a new office or allowing hybrid working can soon turn into a nightmare you wish you never endeavoured.
Offering your employees, a chance to work in a new environment can be a difficult task without the correct system in place. You need IT infrastructure to support it. There is plenty to think about, much of which will be beyond your staff's ability.
When you invest in quality IT support, growth is a time of celebration, it's what we thrive on. With years of experience and happy customers who trust us to take care of everything, supporting the IT of expanding businesses is just one of the things Bandicoot does. We sort out everything, so you don't have to.
3.      Downtime Is A Regular Occurrence
Having an unreliable, costly IT infrastructure in a small business is only going one way – dragging your company down. Not only is unplanned/unexplained downtime frustrating, but the longer your staff are trouble-shooting their computers, the more of your money is going down the drain.
A fact to put all of this in perspective. Small UK businesses are losing an average of £5600 for every hour of downtime.
When you partner with a reliable and trustworthy IT support provider, they will lay down security solutions that will prevent and protect against these disruptions. Ultimately, this will keep your business running smoothly, and more importantly, won't cost you 'double' in essence in the process.
Bandicoot: Your IT Support Provider
The industry you're in is irrelevant. If you aren't in the IT services/support business, you shouldn't focus on IT management. You should focus on how IT can enable you to achieve your business goals.
Here at Bandicoot, we can do just that.
We know you may not always trust our word for it, but our clients trust us to take care of everything, so they can get on with their day-to-day jobs. Check out our case studies, testimonials and Google reviews to see for yourself!
When you invest in an IT support provider, you don't have to deal with tedious IT tasks. We can use our vast amount of experience over 25 years to be precise to avoid common mistakes and lay the foundations for your business.
This will not only improve your employee's productivity but will also let you go home at a reasonable hour or visit the beach whilst you're on holiday without worrying. It could be the beginning of a perfect work-life balance.
Get In Touch
If you'd like to get in touch, give us a call on 01282 506 616 and our team will help you decide which of our IT Support Packages fits your business best.
Alternatively, you can email us at info@bandicoot.co.uk