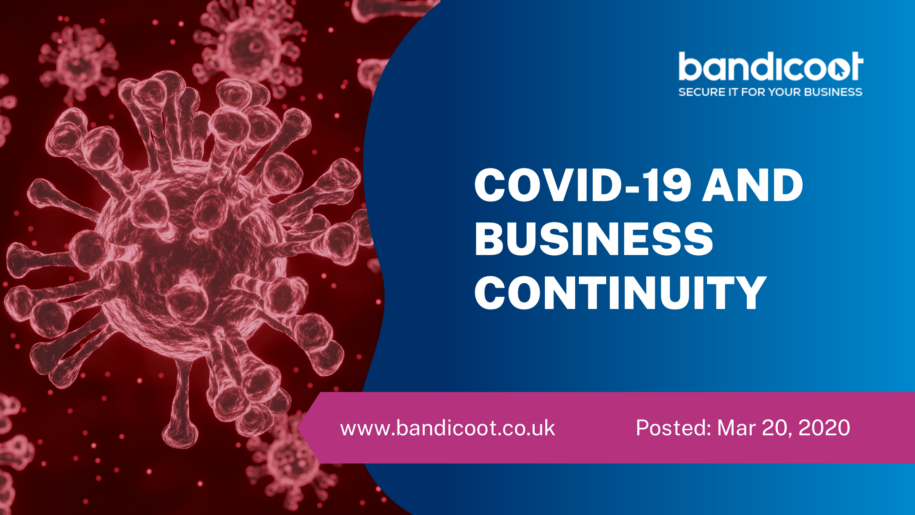 We are living through unprecedented times and possibly the greatest challenge the world has had to face since World War 2. With the move to try and flatten the curve of the Covid-19 pandemic by asking people, if they can, to work from home, comes a new set of challenges for companies and their staff.
Some companies already have flexible working, so they have systems in place, employees are used to working from home and there are policies in place to look after the health and well being of everyone involved.
For other businesses, however, this will be a huge change to how they work and a challenge to transition to working from home without having a negative impact on the business.
Small businesses in particular, may not have the necessary resources to quickly switch to this new way of working.
With no way of telling how long the Covid-19 pandemic will last, it is entirely possible that the way businesses and people work will have to change for some time to come.
How Bandicoot Can Help Businesses Working From Home
So, during the last couple of weeks, here at Bandicoot we have been working hard to ensure that all our clients are ready for home working.
There are plenty of options available depending on how our clients want to and we take the time to discuss this with them and then decide with the client which option best suits their office, staff and industry.
Some clients are already set up with their data and applications in the cloud, which is accessible from anywhere.
The architecture of cloud-based software packages, including Office 365 for emails, SharePoint and OneDrive plus Sage Drive, Xero and QuickBooks for Accounts, means that they are already made to be used remotely.
Now is the perfect time to use the collaborative functionality that many of these cloud-based software packages have, but that people may not necessarily know about.
Working From Home Securely
One important aspect of working from home not to be overlooked, is the security of the devices that employees are using.
Some companies may have already issued laptops that will have antivirus software, but some won't and may have to quickly purchase equipment online (if they can afford to), or will have to rely on employees using their own devices to carry out their work.
If a member of staff is using their own device to access files and data, it is vital that their tablet or laptop has security protection.
In the coming weeks/months, the last thing people want to deal with on top of everything else, is their computers and files being infected with a computer virus or being hacked.
It is a troubling time for us all, and in particular for small businesses, as they have to juggle finances, employees and families, so anything that can be done to help them to continue to operate as normally as possible should be used.
At Bandicoot we can advise and install the necessary antivirus and security software, which means that as long as the computer being used is up to date on antivirus and security patches, they should be good to go.
Working From Home With a VPN
Some companies may want their files and data to have an extra level of security, some may have to legally depending on the data and records they use.
In this case, the best option for businesses is to use a VPN (Virtual Private Network).
Employees are then able to connect to their office network using a work laptop via the secure VPN connection, which gives them access to all the data and applications that they would have if connected to the office Wi-Fi at work.
The final option is to install cost effective software on the work computer which gives each member of staff a secure way of connecting to it from a home PC or laptop.
From there they can work as they would if they were sat at the desk in the office.
Get In Touch
On a daily basis, the team at Bandicoot are focusing on assisting in home working setup and critical issues.
Our primary focus as always is to ensure our clients continue to operate, even more so in these difficult and unprecedented times.
We are fully prepared for covid-19 self-isolation ourselves and fully expect to work from home from Monday 23 March.
As you can understand, any onsite will be reserved for strictly urgent and critical issues to ensure the health and well being of our staff and customers.
If you would like any more guidance or advice on the transition to working from home, then please do not hesitate to contact us.
We have many years of experience in I.T and our team of friendly experts will be more than happy to do all that we can to help, regardless of the covid-19 situation.