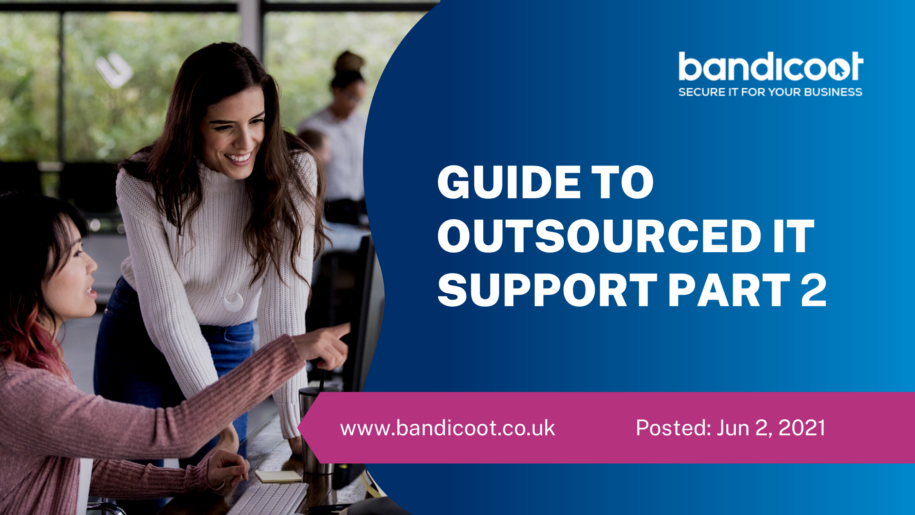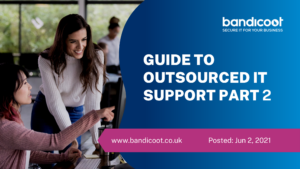 If you've done your research thoroughly enough, then you should be clear about your reasons for outsourced support, and the overall benefits this can bring you.
The next stage is to drill deeper into what IT providers are offering, to get a clear picture of what your options are, and what differentiates one provider from another.
This is about investigating potential providers, looking at the value they can provide, and identifying and comparing IT support packages. Then it's a case of matching the package to your needs.
What are the Core Services of Outsourced IT?
If you browse outsourced IT providers, you'll start to see the same things come up in their list of services:
Security
Software updates
Backups
Remote monitoring
Help desk support.
But just because these things keep cropping up doesn't mean the providers concerned are lacking in imagination.
These are core elements you should expect at the very least from a competent IT support service.
Or, to put it another way, if they're not offering these things, then they're not going to give you the fundamental support you need.
Going beyond these core services, you should be looking at what each of them involves.
For example, what does security cover? It should include managed security updates as an absolute minimum.
But what about managed antivirus, protection from email viruses and phishing attacks and making your employees thoroughly security-aware?
How will the IT support provider assess your security in the first place? Look at whether a full security audit comes as part of the service you're being offered.
Will Your IT Support be Reactive or Proactive?
There's a world of difference between having someone on hand to fix things when they go wrong, and someone who helps prevent things from going wrong in the first place.
You shouldn't think of your IT support as being the equivalent of a handyman, someone you call out when you've noticed a fault.
Instead, you should expect a service that's proactive in its support of your software and systems.
This is why the monitoring and management elements of IT support are so critical. Really, you should be looking for a partner rather than a supplier – someone who takes a dynamic approach when looking after your IT.
It's like the difference between having a standard accountant who does your returns once a year, and a management accountant who keeps a close eye on your business development and is there to offer you professional support and strategic guidance.
What Added Value and Benefits Should You Expect?
If you go on the principle that your IT support will work in partnership with your business, and you should, then this should also offer added value to you.
This can come in various forms:
Strategic reviews
Security audits
Security awareness training
App support
Automatic fixes
On-site support and project work.
Why is added value important? For one thing, it represents the long-term benefits that IT support can bring that will help with your overall business development.
Upgrading systems and introducing new processes to streamline operations are essential for SMEs looking to stay competitive and retain or expand their market share.
Nearly half of all SMEs believe that technology is more important to their business than people.
Will your IT support provider help you to migrate to Office 365, or offer general support with managing, updating and installing the essential apps your business needs to run more efficiently and effectively?
How Do You Choose Your IT Support Package?
Having a clear breakdown of available IT support packages makes it much easier to work out the level of IT support that will suit your business needs.
Our advice is to look beyond the present moment. You may have existing issues which certain package features will address immediately, but what about your future development?
Consider whether the package you select will be able to support your business through critical changes and whether it enables you to maximise the benefits of bought-in expertise.
This is much more than a box-ticking exercise, however. Package features will give you guidelines about the level of support you can expect, but you really need to talk to a potential provider to get a clear picture of who they are.
It's not enough that they can offer a range of core services and added benefits on paper. You need to gauge the whole tone of their business:
Do they explain things in ways that make it easy for you to understand them?
Are they straightforward to get hold of, and can you access someone with the right level of knowledge easily?
How quick are they to respond to your queries and communications?
What feeling do you get about their culture and how its values might translate to their level of service?
These aren't necessarily things that immediately spring to mind, but they're markers for the type of company you're dealing with.
And remember, choosing your IT support provider and package are big decisions that can have a significant impact on your enterprise.
Ask the Right Questions
IT support is about a lot more than price.
Things to ask a potential provider include:
What areas do you cover geographically?
Do you have guaranteed response times?
Do you provide a dedicated account manager?
How and when do you charge for your packaged services?
How do we raise IT issues with you?
Will we be able to speak directly to a technician?
In part 3 of our guide to outsourced IT support, we'll look at the long-term benefits of support packages and what to expect from your relationship with your chosen provider.
To find out more about our IT support packages, please call us on 01282 506 616, email info@bandicoot.co.uk or complete our contact form and we'll be back in touch as soon as we can.