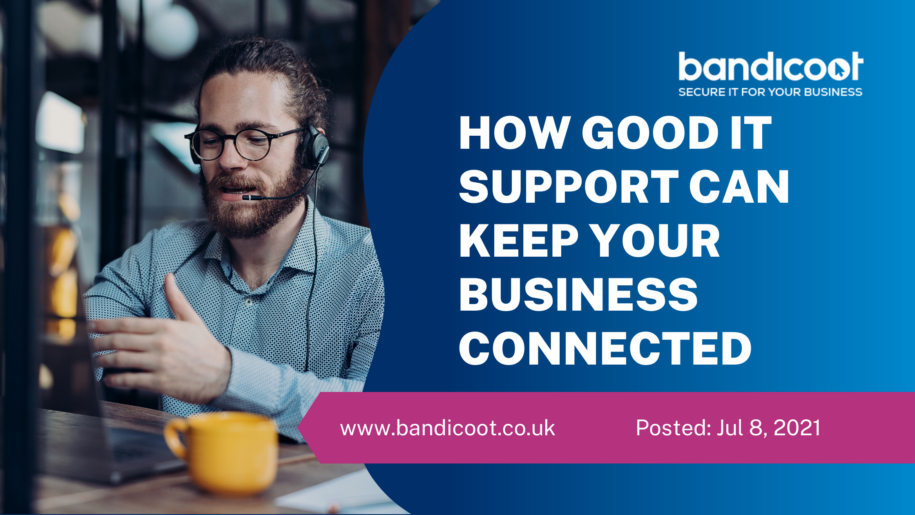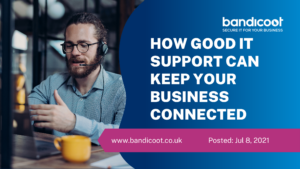 All businesses should be aware of the positive effects IT support can have for the company and employees. Not only can good IT support keep you safe from cyber criminals, but it can also keep the business connected.
Whether you're a small, medium or large office with just one office or maybe multiple sites across the country, having a trusted and proactive IT support partner is key to your success.
Rather than waiting for an IT issue to stop you from working, it's integral to know your IT partner is constantly monitoring and fixing problems, if and when they occur, so they don't develop into issues.
If you're a larger company, you may have an in-house IT support system. On the other hand, it could be outsourced, where they manage IT support – or a mixture of the two.
In this blog, we're going to see how good IT support can keep your business connected and which package would suit your business needs.
How Can IT Support Help My Business Stay Connected?
Good, IT support doesn't just entail fixing IT issues when they occur; it is about supporting every aspect of the business.
The only difference is they're actively looking and identifying ways of using the latest technology to operate consistently and more efficient.
Staying connected can come in many forms when your IT support partner is doing a good job. Here are a few:
Compliance – You're going to be managing data, so staying on the right side of regulations is key. This requires you to not have any data breaches when you gather in-house or out-house personal data.
If you have a data breach, you will become disconnected from your customers, and they would no longer trust you.
Productivity – Downtime will lose you money. It's important to stay connected to drive efficiency, innovation and productivity.
If you want a motivated, productive workforce, you need to make sure the technology they're using will work properly and consistently.
Future-Proofing Your Business – Unless your business is an IT company, it will be hard to keep up with the latest updates and changes to the technology.
With good IT support, you have peace of mind you don't have to worry about it as your IT partner will keep your technology up to date and advise you how you can take full advantage of it to bring improvements to your business.
Security – IT companies should always have a robust security strategy in place to protect your business from cybercriminals and keep you constantly connected.
What IT Support, Does Your Business Need?
There's not a single business that doesn't rely on technology. The ones who are successful are those who adapt to change. In this world of evolving technology, you need to continuously adapt to remain relevant.
When this is the case, you need to make sure you outsource or hire the right IT support to take care of your IT infrastructure and needs so you can remain connected and functioning at optimal levels.
Bandicoot has three levels of support; you must choose the right package for your business needs.
Giga – Giga is the minimum that businesses need. Bandicoot manages the security updates and installs their antivirus software. We will support you whenever you need it.
Maybe your computers aren't critical, the Giga package allows you to feel comfortable, so we can step in when things go wrong, all at a discounted price.
Tera – The Tera package is suitable for businesses who are wanting IT security that comes with antivirus software management and monitoring because they rely on IT.
So, what comes with the Tera package? Tera clients have unlimited helpdesk support, allowing us to control your computer from our remote office. Bandicoot remotely set up your PC's, taking all the stress of new technology or employees.
This package is a fixed price, helping you stay in control of your budget.
Peta – Peta is our complete IT support package. It will give you complete peace of mind and confidence when using your technology. You are protected from viruses, spam and phishing.
We will install our application onto your devices, this will allow us to remotely access your software to proactively check your devices for small problems before they get out of control.
How Can We Help?
Here at Bandicoot, whether you're on a tight budget or you want to do what it takes to protect and connect your business, we can help.
Our clients trust us to take care of everything, so they can get on with their day-to-day jobs. Check out our case studies, testimonials and Google reviews to see for yourself!
Give us a call on 01282 506 616 and our help you decide which of our IT Support Packages fit your business best.
Alternatively, you can email us at info@bandicoot.co.uk