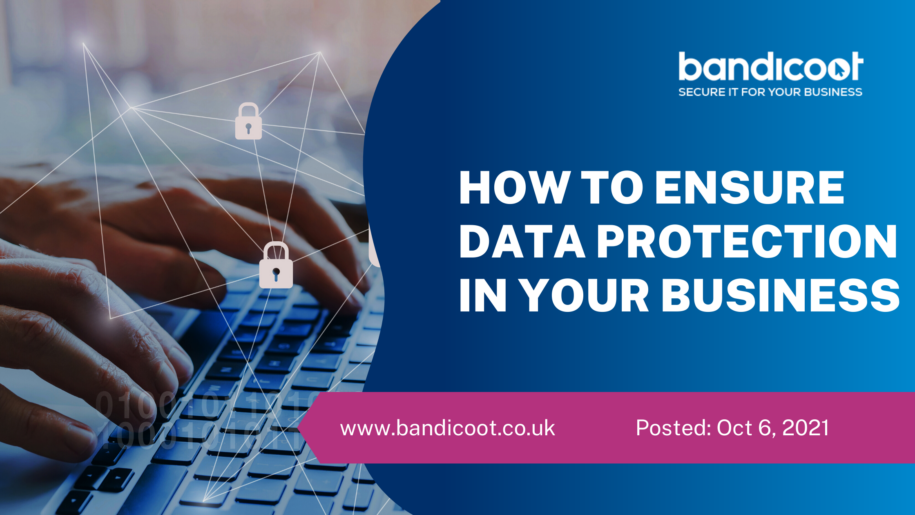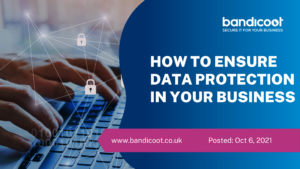 If you're a small business owner, the chances are you're dealing with personal data. Whether that's; details about customers, suppliers, or your own staff, it's important to follow the data protection regulations.
Within the UK there are guidelines set out by the Data Protection Act (DPA), and with the global pandemic navigating businesses to shift to a hybrid, online way of working. With this came additional data privacy challenges.
Without the proper security and procedures in place, businesses leave themselves open to the consequences of such attacks, which are at best frustrating and at worst irreparable. In this Bandicoot blog, we are discussing what data needs protecting, why is it important and tips to help you protect your data.
What Data Needs To Be Protected?
There are pieces of information that need to be safely stored and protected by businesses, that includes employee records, customer details, loyalty schemes, transactions, or data collection, and this is to prevent that data from being misused by cyber criminals for fraud, such as phishing scams and identity theft.
Common data that your business might store:
Names
Addresses
Emails
Telephone numbers
Bank and credit card details
Health information
This data contains sensitive information that could relate to your: current staff and their partners; shareholders, business partners and clients; customers and other members of the public. Protecting all this information requires businesses to adhere to specific principles.
Why Is Data Protection So Important?
Data is one of the most important assets a company has. For that reason alone, data protection should be a top priority for any company. As previously mentioned if the cybercriminal hacks all your data the damage can be irreparable.
In terms of employees, guarding data is crucial. It will narrow it down to certain employees if the worst was to happen. They will keep the integrity and confidentiality whilst making sure it's up to date.
Concerning consumers or external stakeholders, ensuring their data is held safe is the minimum people will expect from companies they deal with or invest money in. Securing their data builds trust for future interactions. It safeguards the reputation of your business, establishing you as a brand that people can trust with their data.
What Can I Do To Protect Our Business?
Understand the lifecycle of data – Companies with successful security policies know their data. More importantly, they know where it is stored and how it is used. You need to employ or outsource to make sure data is accessible and only authorised by certain employees. This ensures you're GDPR compliant as well as fulfilling other standards.
Educate Employees – Making sure everyone in your business understands that company security policy is important. Whether you opt to do it during their recruitment phase or choose refresher sessions, we would highly recommend it. Just make sure everyone is practising the methods throughout the entire company.
Migrating To The Cloud – If your business doesn't have the time or expertise to stay on top of all the security issues updates requiring attention. It might be worth looking at an IT Support company that can migrate your work to the cloud.
A reputable company will be able to store data, maintain software and implement security. This is the perfect approach for small businesses to have. Look to provide yourself with protection, so you can solely focus on growing the business.
Set Up Automatic Updates – Cybercriminals are in heaven when they scan a network of data and realise the software isn't up to date. Updating device security settings, operating systems and other software to their latest versions can prevent this from happening. Set any patches and improvements to automatically update in the background to further safeguard against potential threats.
Protect Your Data By Outsourcing Your IT Support
If you want to ensure you're protecting your stakeholders, but without the hassle of doing it in-house, then it makes sense to get expert help.
At Bandicoot, we are specialists in protecting your data. From hosting your domain to maintaining the internal and external look and feel of your website. We can assure you one thing, you won't have to worry.
Having a good IT support package in place will give you the confidence of knowing your business data is in safe hands. We monitor your systems with a professional, diligent eye.
For more information, please call us on 01282 506 616. Alternatively, you can use our contact form to send us a message. We'll be back in touch as soon as possible.