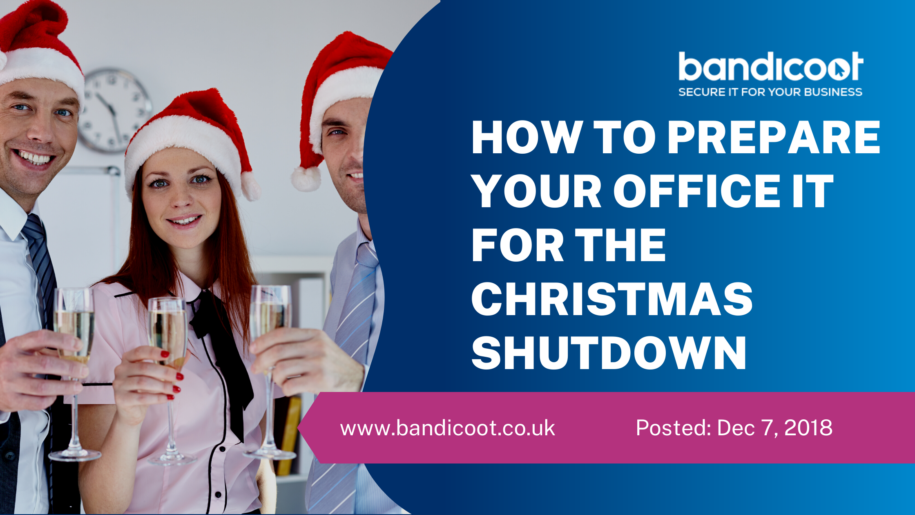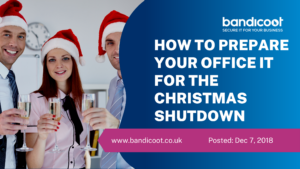 As the Christmas holiday season approaches, and the office parties are in full swing, it's easy to take your eye off the ball and forget the basics when it comes to preparing for the office shutdown.
It is a proven fact that cybercrime spikes during the holiday season and businesses can return in January to a fate far worse than having to take down the last of the baubles or putting the tree out for recycling.
Here at Bandicoot IT we write about it every year, in order to draw your attention to the importance of keeping your data and IT infrastructure safe during the Christmas period. Our last blog on this subject highlighted issues such as protecting data, keeping the office secure and putting a plan in place in the event of any extreme weather.
This year, it's much the same message but in a slightly different literary format. Want to see our Christmas poem underlining the importance of preparing your office IT for the Christmas shutdown? Read on!
Christmas I.T Advice
Christmas is coming, the goose is getting fat,
It's the perfect time
For cybercrime,
So let's have a chat.
If you want to protect your data,
And not be left feeling blue,
Pick up the phone, before you go home
And find out how we can help you.
IT Security is a necessary thing,
You could lose the lot if you forget.
So before you switch out the lights and enjoy cosy nights
Prepare a back-up, so you don't have to fret.
To protect your database
And think about your building too.
Have you made it secure, or are you unsure?
You could regret it, unless you do.
It's really not that complex,
To enjoy the holidays without fear
So if you want IT advice
Before getting stuck in to mince pies
Contact Bandicoot IT before you disappear.
Christmas Checklist
If the poem doesn't spell it out for you, here's a quick checklist to reference. Don't say we didn't warn you!
Confirm your locking up procedure – Make sure everybody knows the plan. Communicate this early and repeatedly before the holidays, it's surprising how many people are unaware of the office practices!
Try to avoid Lone Working – If you can, try to avoid anybody having to work alone over the holidays as they are vulnerable targets for any would be criminals. However if this is not avoidable, make sure you have a lone worker policy, and you remember to look after the well being of Lone Workers by having escalation contacts and offer personal safety devices if required.
Do you know who is entering and exiting your premises? – This is an ideal time for opportunists to enter buildings under the guise of delivery drivers, make sure you check ID for ANYBODY who you don't know, even if they try to tell you that your regular delivery person is off, make sure you check their credentials and their story backs up!
Verify key holder contact details – Check your contact lists are up to date, and confirm responsibilities. Again, communication is key and ensure everybody will be contactable if they are on the list, try to make sure responsibilities are shared and not just left to the same people all the time.
Keep your building and car park well-lit – Adequate lighting will deter unauthorised activity, and would be intruders will be put off if an area is well lit.
Make sure your security contract is up to date – and ensure you have visible signage highlighting this fact. This is a great deterrent to any opportunist criminals.
Ensure all electrical appliances are in safe mode – With premises closed up, and little or no staff attending, there is always a fear of fire or flood damage. It is also a good idea to keep the heat coming on for a few hours each day to keep everything moving along.
Contact Us
So if you are currently busy planning your Christmas holiday shutdown strategy, don't leave it to chance and expect everything to be okay when you get back in to the office on the 2nd January. Make sure you have all the preparations in place for you to enjoy the holidays without incident in your I.T infrastructure and contact us here or call us on 01282 506 616 to discuss how we can help you protect your data.
We have a team of dedicated experts who can support and advise you on the correct procedures to put in place, meaning that you can have that extra glass of sherry when Santa comes to your house and you won't have to worry about asking him for a lift in to the office on the back of his sleigh!