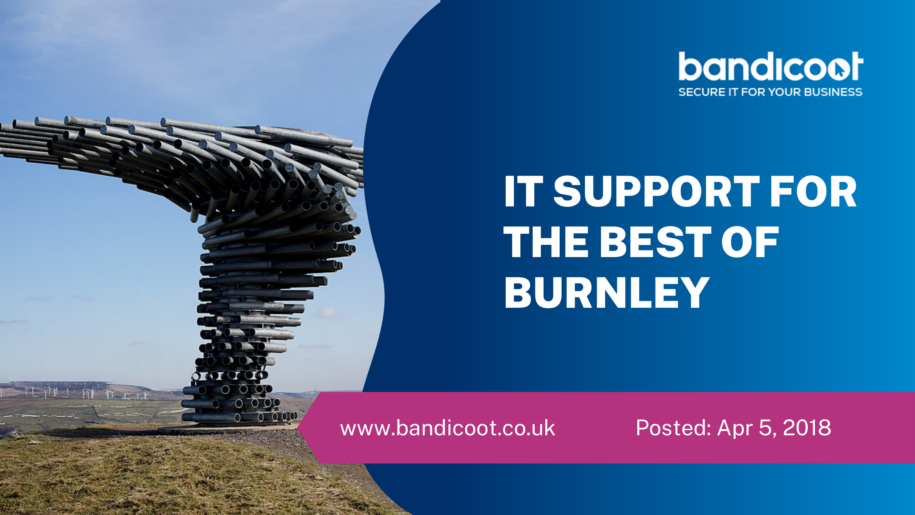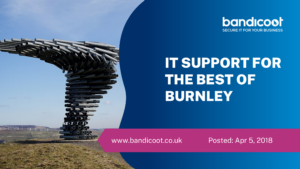 As you're probably aware, Bandicoot have been providing IT support to the businesses of Burnley for a good few years now, and it's something that we're keen to shout about.
As good strong Northerners, the whole Bandicoot team are from Burnley and the surrounding area, and we're proud of both our Northern roots and of being able to help support our local town.
Burnley gets a bad rap a lot of the time, but there are actually some really great things about this feisty little town that lift it above the grey wet drizzle, and here are just a couple of them.
The Businesses of Burnley
Naturally we come across a lot of Burnley businesses on a day-to-day basis, mainly because we supply the best business IT support services you could ever wish for (ahem). But it's not only through our clients that we encounter these fabulous local businesses.
Business IT Support For Burnley
For the past decade or so, Bandicoot have been working with the cream of the crop in terms of Burnley companies. OK, naturally we're going to say that – they did choose us for their IT support after all, so they're bound to be pretty special, but it's not only down to us being biased.
In fact, if there's one thing we've learned in all these years, it's that there are some exceptional companies out there who will genuinely go the extra mile for their customers and provide top-notch products and services. Honestly, don't believe these folk who tell you the North of England is dying – believe us, the North – and Burnley especially – is thriving!
And whether we've been providing web design services or just good old-fashioned tech support and IT services, we've worked with some of the best businesses from Burnley and the surrounding areas of Rossendale, Pendle, Blackburn…in fact, all over Lancashire and West Yorkshire!
And of course, on top of all the clients we work hard with to provide the best business IT support this side of the Pennines, there are also the Fernbankers, who we work alongside day-in and day-out.
Serviced Offices in Burnley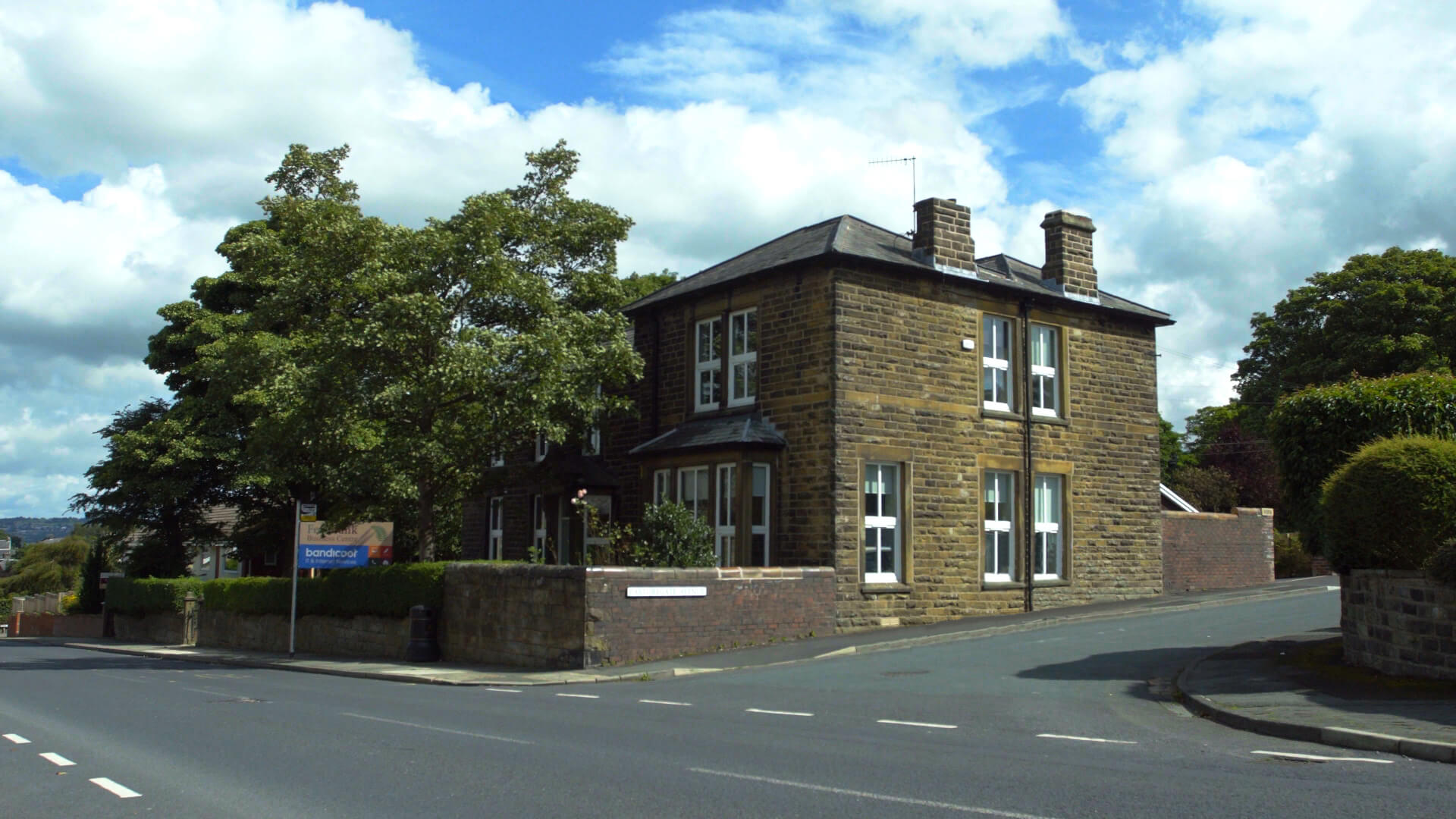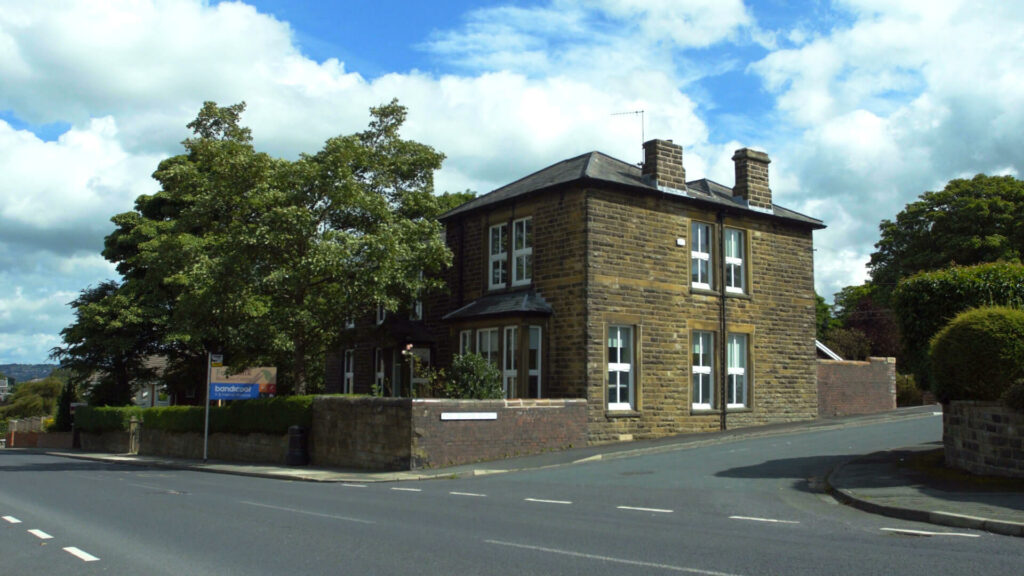 For those who don't know, Fernbank Business Centre is the name of the office suite in which Bandicoot is based (although some have now affectionately nicknamed it Bandicoot Towers). Located in the heart of Burnley with great transport links nearby, Fernbank is a project that we took on a couple of years ago, adopting a derelict old council building and renovating it into smart, bright and spacious offices, suitable for a range of local SMEs.
After several months of blood, sweat and tears, we managed to take a Victorian corn merchant's opulent home, which had been masquerading as a local council property, and turn it into a stylish set of offices that are both ready for the modern workplace yet retain many gorgeous period features. And after all the unforeseen stresses and strains of executing this project, we were relieved – and just a little surprised – to see the offices snapped up in no time by some wonderful Burnley businesses.
Well, they are gorgeous fully serviced offices located in the centre of Burnley – and incredibly reasonably priced for that too!
Now, our neighbours in Fernbank comprise companies as diverse as Direct Business and Accounting, BoB Clubs North West and Face 2 Face HR, and we couldn't ask for nicer businesses to share our space with.
The People of Burnley
Which brings us nicely on to our second point, because these great businesses that we work with would be nothing without the great people who work in and for them.
It's true what they say about us Northerners, we genuinely are a much more friendly bunch than 'down south', which is why the people are the bit that really make the Burnley business community tick. And, as triumphant supporters of local businesses, Bandicoot like to get out as much as we can into the community to meet folk, make connections and, naturally, spread the word about our exceptional business IT services (did we mention those already?!?).
Networking in Burnley
And one of the best and easiest ways we've found of getting out and about is by networking, which is why you can find Bandicoot out and about at networking events at least once per week, and more if we can wangle it (well, we do love a free breakfast!).
Our longest and most loyal connection is with BoB Clubs – or Business Over Breakfast Clubs – of which we are a member of both the Haslingden and Burnley groups. And it's not purely because Tracy Heatley – who runs BoB Clubs North West – is one of the Fernbankers that we love attending this group!
Over the past few years that we've been regularly attending the breakfast networking meetings, we've made some genuinely good friends with like-minded people in the Burnley business community and made some cracking business contacts too. I don't think there's anyone in the group who isn't working hard to improve Burnley as a whole.
And speaking of which, why not check out our very own Tracy Heatley on her Ribble FM radio show, where each week she quizzes local business owners and entrepreneurs to bring you all the latest business news and gossip from around the North West?
In addition to BoB, you can also find the Bandicoot team out and about at the Burnley 4Networking breakfast networking group too. Regularly heralded as one of the 4 Network's flagship groups, this fun and vibrant meeting of local business owners and entrepreneurs is always a great place to do business and meet new people.
Plus, as this is such a popular group, folk come from far and wide to Burnley to do business with our very own local companies, which just goes to show how exciting and popular Burnley is as a business destination! All made possible by the great people of Burnley, who put their all into their companies and projects and have ensured Burnley is a better place to do business today than it has ever been.
The Football of Burnley
And speaking of things that are better today than they have been for years…
Oh, come on, you didn't seriously think we'd have an entire blog about the best things about Burnley without mentioning possibly THE best thing about Burnley?!? It's an admittedly contentious issue, so we won't push it. Instead, we'll just say Come On You Clarets!
The Weather in Burnley
Nah, we're joking on that one! Seriously, there is absolutely nothing good about the weather in Burnley!
Get In Touch With Bandicoot
If you'd like to find out more about the many great things that happen in and around Burnley, or if you'd like to know more about the next event that we'll be out and about at, then please just get in touch with us. We can also talk you through our top-class IT support services for business, which we provide exceptionally well and for exceptionally good prices.
To find out more, you can fill out the contact form on the website, drop us an email at info@bandicoot.co.uk or phone us on 01282 506 616.