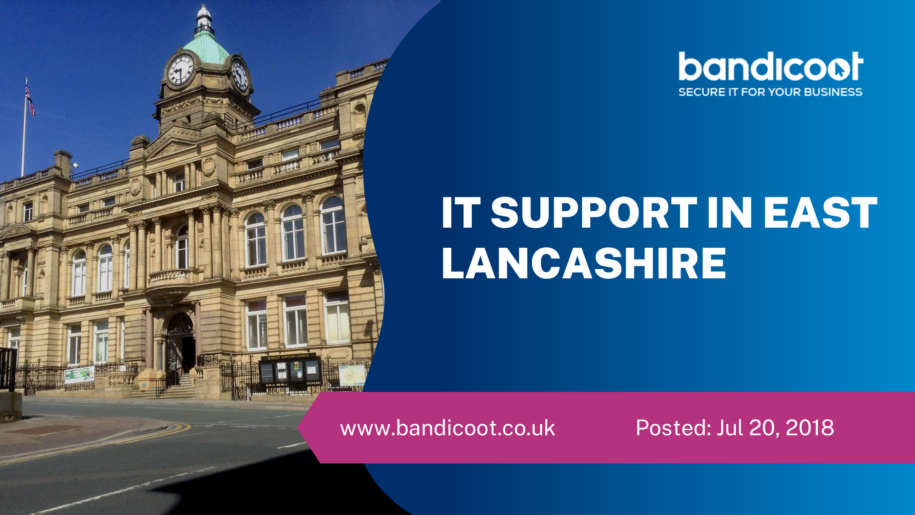 For centuries now, Lancashire has been one of the leading pioneers in business, trade and industry. In particular, East Lancashire, consisting of Burnley, Pendle, Rossendale, the Ribble Valley, Accrington and Hyndburn has seen many of the innovators and forerunners, leading the way during the Industrial Revolution.
Now of course, times have changed and the major industries are all IT based, connectivity through the Internet to the rest of the globe is an essential part of business life, and whether you work for one of the Fab 500 or you are one of the countless sole traders in the county, IT Support is a vital cog in the wheel of everyday business life.
So, if like us you are a proud Lancastrian and you are looking for IT Support in East Lancashire, (or the rest of the County for that matter), then read on, and we will explain a little bit more about our products and services and why you should choose us in this week's featured blog.
How did Bandicoot Evolve in East Lancashire?
Bandicoot was formed over 14 years ago, back in March 2004, although Stuart the MD, has well over 20 years IT experience within different sectors, building up a wealth of knowledge and understanding of practically every IT issue you could ever think of, and probably a whole host that you wouldn't have ever thought of!
The Bandicoot website in June 2004The rest of the team are also loaded with experience and expertise, and have come together over the years from humble beginnings in a small office in Bacup Town Centre to their latest HQ, in FernBank Business Centre, a very typical and traditional Lancashire Victorian House, which has managed to retain many of the original features, yet is more than well equipped to serve the business and it's high-tech, quick response IT Support service, that is available.
Links with East Lancashire Business
With customers located all over the North West, it would be easy to forget our roots are firmly in East Lancashire, however with all of the team coming directly from around the region, i.e. Bacup, Cliviger and Burnley, this is never going to happen.
We remain very firmly committed to providing IT Support Services to our region, and love nothing more than meeting new clients from Accrington, Rossendale and the Ribble valley! In deed some of our biggest customers are from this area, and we have strong links with Business Over Breakfast in both Rossendale and Burnley, where you can always come along as a visitor to network and grow your own business whilst finding out more about what it is we can offer.
Our IT Support in East Lancashire
So whether you are a large organisation with lots of employees, and people who work out on the road with laptops and mobiles, or if you are a sole trader or start up company, we have IT Support Solutions that can be tailored to your needs.
Firstly, we can offer a complimentary IT Systems Health Check to see what service would be best for you.
Then, we would adapt your service package accordingly, to suite your needs.
It might be that you require full server and network security, or you may need help with you operating systems or connectivity, we can do this for you.
We also take care of phone systems and mobiles, email issues, back-ups and anti-virus installations. To be honest, ours is a fully comprehensive IT Support Package that will take all the stresses and strains of IT away from you so that you can get on with what you do best, i.e. running your own business!
Web Design In East Lancashire
What if you are one of the many entrepreneurs in the region and looking to start up your own business and you need a web site?  Would you know who to call, who was trustworthy, 100% reliable and won't cost you an arm and a leg every time you actually pick up the phone to speak to your provider?
Well fear not, we can design and build high quality business websites, including e-commerce that will enhance your brand presence and optimise your website so that you are ranked high up on the search engine pages.
This is a crucial part of having a website, and one that many web designers and web builders tend to forget, charging a fortune to set everything up, but then leaving your new precious website to languish way down on the search engine pages because they forgot to speak about how important SEO really is!
Furthermore, we can offer immediate remote IT Support if your website goes down for any reason, as well as rapid on site support to all areas within East Lancashire, giving you complete peace of mind that your business will always be up there with the best, and you have nothing to fear about IT Issues that you can not solve.
Communication
This is a really important part of offering IT Support Services and we believe in offering first class, clear and concise advice, in plain English, which tends to go down well in East Lancashire!
And whilst we're not saying we are fluent in Lancashire Dialect there's no point in talking industry language to our customers if they are not from the IT Industry!
Contact Us
So if you have a business in Burnley, Rossendale, Accrington, the Ribble Valley, or any part of this glorious County, you need IT Support, and you want a company from East Lancashire to help you, you can contact us here, where a member of our highly skilled IT Support professionals will be happy to listen to and discuss your requirements in more detail.
And if you want to chat about how beautiful Pendle Hill is, that's okay too.