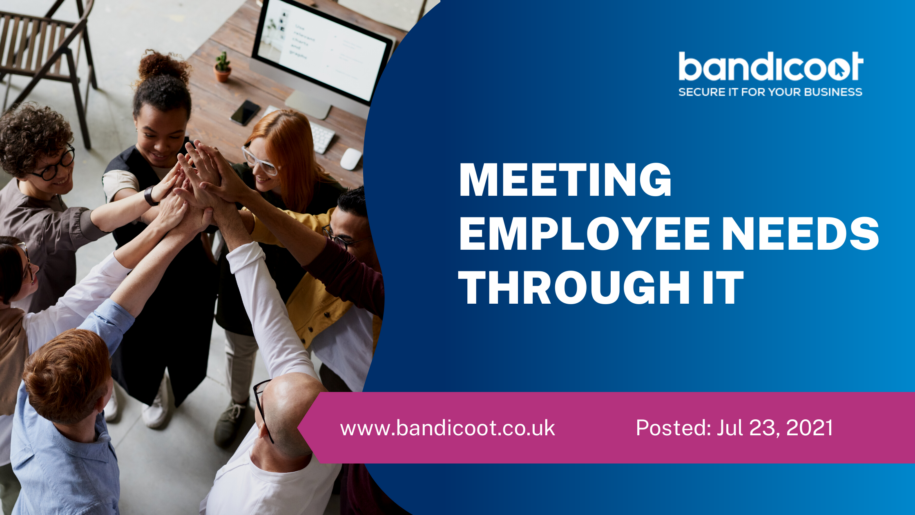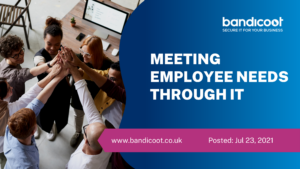 Information technology (IT) has become an integral part of every business model. From worldwide companies who maintain huge eco-systems and databases to small businesses that don't own so many computers, IT plays a role in employee needs.
But what stands in the way of our employees being satisfied and meeting their needs at work? That's the question Harvard Business Review asked more than 19,000 people.
At all levels, throughout multiple companies, across a range of industries, a good chunk discussed the importance of IT and the correlation it also has with productivity within the workplace.
In this blog, we're going to discuss meeting employee needs through IT, the benefits of it, and the potential costs if the company fails to fulfil it.
How To Identify The Needs Of Employees
Running a business means that you're responsible for managing your employee's needs in a way that every member of the company performs and delivers to their maximum potential.
The best way you can do this is to set up their working environment accordingly to perform their job.
According to Forbes employees have 5 levels of needs:
Physiological Needs (Basic Needs)
Safety Needs (Working Conditions)
Social Needs (Work Relationships)
Esteem Needs (Employee Recognition)
Self-Actualisation (Employee Growth)
Understanding an employee's needs and fulfilling them builds confidence, which increases their engagement, satisfaction and performance.
How Can IT Meet The Needs Of Your Employees?
The first and most important one from an IT perspective is 'Safety Needs – Working Conditions'.
This falls under many categories, so we'll focus on the main points. Safety needs for employees are safe working conditions and security of employment.
The most complete IT support package can give your employees peace of mind and confidence when using your technology. They're protected from viruses, spam and phishing.
Not only will an IT system support your employees safe working conditions, but it will also give them the facility to work to their maximum.
IT support packages for businesses include multiple components:
Remote monitoring
Security audits
Managed security updates
Office 365 support
Protection from email viruses and spam
Cybersecurity awareness training
And many more.
The last one to address and comes in light of the global situation we find ourselves in. Many businesses are now offering a hybrid workplace where employees can work from home.
Regarding the 'Social Needs' of your employees, IT can fulfil this.
Employees need to have a sense of belonging, trust and interpersonal relationships. The need for a positive relationship between employee and employer plays a pivotal role in work relationship satisfaction.
Having an IT Support system in place ensures the interactions between employees are without interruption or downtime – effective communication is crucial for team productivity.
Employees will never experience slumps or times of no motivation, with collaboration tools such as Zoom and Microsoft teams is has been proved to make working together easier, which is something employees welcome.
Increasing Employee Engagement With IT
Productivity is an ongoing workplace issue and one that technology can address.
A study found 86% of HR professionals agreed that employee engagement would improve if their workforce had the technology to recognise one another on an ongoing basis.
If your company wants to get the best out of its employees, providing them with feedback is essential.
Feedback also satisfies the needs of the employees for constructive input and helps to reinforce performance and improve weak performance.
Training and development is a key component to any business wanting to remain competitive in the market.
As the employer, you can take advantage of these sessions and overall their enthusiasm will increase employee engagement.
How Can We Help
Here at Bandicoot, we will ensure you meet your employees' needs through the implementation of IT. Whether you're on a budget or you want to do whatever it takes to fulfil your employees' needs – we can help!
Our clients trust us to take care of everything, so they can get on with their day-to-day jobs. Check out our case studies, testimonials and Google reviews to see for yourself!
Give us a call on 01282 506 616 and, we'll help you decide which of our IT Support Packages fit your business best.
Alternatively, you can email us at info@bandicoot.co.uk.