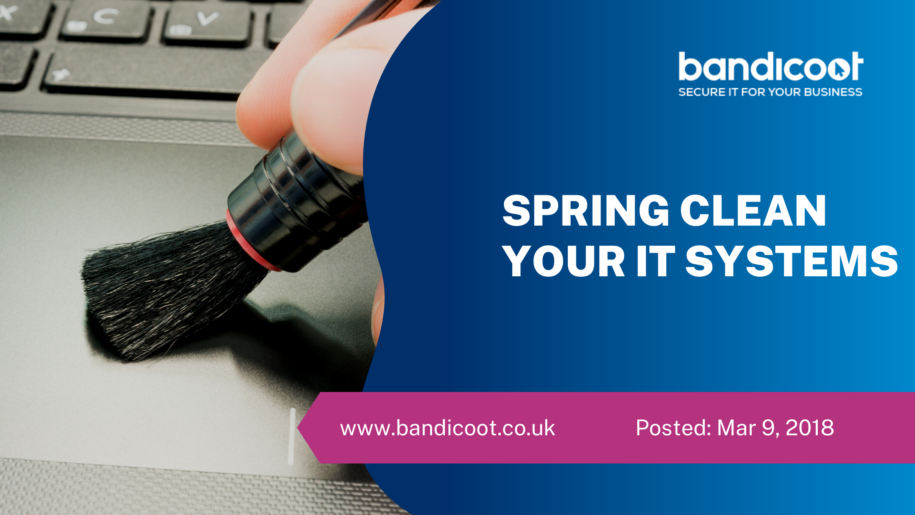 More sun and less snow can only mean one thing; the official start of Spring is on its way so it's time to get your IT systems in order.
Traditionally, an annual spring clean involved giving your house a clear out, scrubbing the skirting boards and opening all the windows. A now somewhat old-fashioned tradition perhaps, but the start of spring is still associated with cleaning and organising in many people's minds. It's not just in the home people get the urge to sort and clean – why not do the same for your business and give your IT systems a spring clean? The start of spring is the perfect time to sort out your IT and all those odd-jobs you've been putting off since before Christmas. Get ready to pull on the marigolds and review your IT systems – it could save your business time, money, and increase efficiency.
Bandicoot IT Spring Cleaning Tips
Here are just some of the ways you can upgrade, improve and save:
Recycle old hardware – nearly every business has an IT graveyard; usually located at the back of the server room and piled high with redundant monitors, keyboards and various cables. Why not bite the bullet and recycle what you aren't going to use? Most local authorities have locations where you can drop off old electronics for recycling. If you have a lot of computer equipment to recycle, you may need to pay for a professional IT disposal service. Now would also be a good time to replace hardware that's still in use but isn't functioning as well as it should be.
Clear out or organise documentation – safe document storage is an essential for any business. If you currently keep paper documentation and want to switch to a cloud-based storage solution, then there's no time like the present – you can quite literally clear out the cupboards and filing cabinets this spring!
Update your website – there are a few ways you can improve your websites performance, one of them is to look at your hosting, if you aren't happy with the service or level of monitoring from your current host, you could consider switching. Another essential website update, if you haven't already done so, is to install an SSL certificate – this will protect customer credit card details, passwords and personal information.
Audit your security – does your IT security need a health check? If it's been a while then you should double check that any security software is running as it should be, and that anti-virus, firewalls etc are all working. Any gaps in your security systems will cost you more in the long run, so don't delay this for any longer. Check access points to your systems and ensure that only the correct people have access, this also applies to any software you might have a licence for – ensure people who have left the business can't still access anything.
Upgrade your communications – old phone systems that no longer work or poor internet connectivity need looking into as soon as possible; communication systems that are past their best can severely affect staff productivity, and morale. A communications upgrade will ensure your business applications work smoothly, your staff are better able to communicate, and nobody gets frustrated!
Review your IT policy – a clear IT policy can protect your company from legal problems and security risks, as well as ensure your employees make best use of the technology and systems you have in place. Have you reviewed yours lately? Like all business policies, your IT policy needs regular reviews and any changes will need to be communicated to employees.
Save electricity – how much money does your business lose through wasted energy? Do printers need to be switched on 24/7? Are there any ways you can slim down your electricity costs by switching things off?
Do a software stocktake -check what software is being used across the business, which machines its used on and by whom. Is all of it necessary, or can you save space or money by getting rid of unused licenses? Check contracts and ensure that anything due for renewal is discussed within in the business first – there's no point paying for systems you don't use.
Need Help with Your IT Support or Spring Clean?
Bandicoot provides IT services and support for businesses across Lancashire, so if there is anything on our checklist that you need assistance with we'd love to talk to you and see where we can help!
Call 01282 506 616, email info@bandicoot.co.uk, or fill in the contact form on our website, send your message, and we'll get back to you as soon as possible!