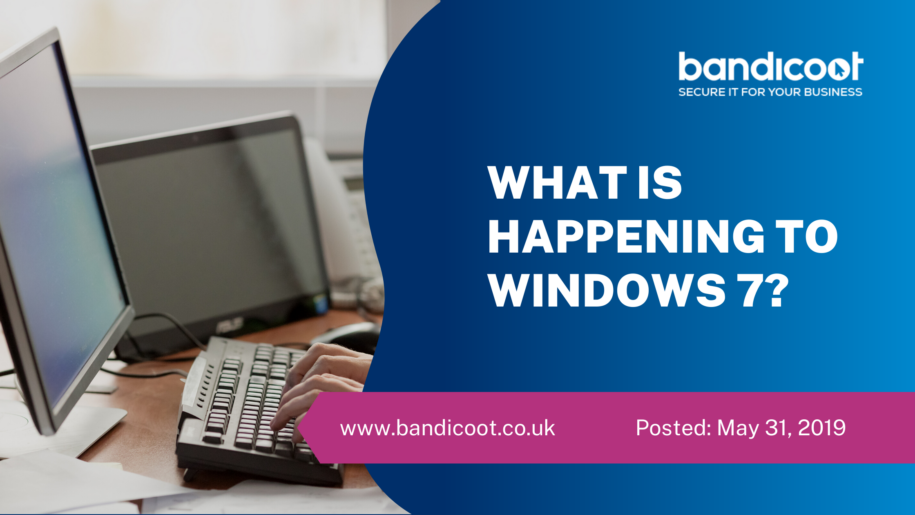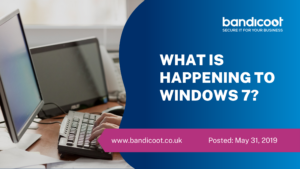 Windows 7, one of the most popular and successful computer operating systems ever launched, is very soon to be consigned to the great computer hardware in the sky.
Microsoft announced some time ago that their support for this package will end on 14th January 2020, so if you are still operating on Windows 7, you have less than a year to plan and prepare for switching your computer on to a new operating system or risk being in a situation where the service and support you may need in the future is simply not available.
Now, if you are one of the 33% of people globally who is still using Windows 7, (and this is a large number of users to be fair), this is the time when you really ought to be planning ahead, as failing to switch to a new operating system could leave you and your business open to a number of potentially damaging threats from malicious cyber criminals, eager to use this situation to their advantage.
However, don't panic just yet, with a little help from IT Support specialists Bandicoot, the transition from Windows 7 on to a new operating system will be smooth and seamless.
Want to find out more? Read on..
Windows 7: The Support up to Now
Microsoft actually stopped their mainstream support for Windows 7 back in January 2015, so well over 4 years ago. At this point, Microsoft ceased to add any new features and warranty claims were no longer valid.
Microsoft have however continued to issue updates and patched the operating system in order to keep Windows 7 functioning effectively and protect against cyber bugs that could have damaged your data. In addition, the company are also issuing an update which reminds users of Windows 7 that they need to upgrade their operating system before the end of this year.
These updates will come to an end on 14th January next year, as more up to date operating systems have become available, making it less viable to continue the support for Windows 7.
This doesn't mean however that your computer will no longer function, you will of course, still be able to switch it on and use it relatively as normal after this date.
Nevertheless, it is a good idea to plan your move now on to a new operating system, as come January next year if you are still using Windows 7 your computer will be extra vulnerable to malware and computer viruses, and will no longer be supported by Microsoft by their updates to protect against this kind of attack.
I'm Still Using Windows 7, What Should I Do?
The obvious, and simplest solution is to upgrade to Windows 10, and although there are other operating systems available, Windows 10 is the natural choice to cause the minimum disruption to your files and data.
Here at Bandicoot we could support you through this process making it quick, efficient and cost effective to switch over.
We will check your PC is compatible with the required specifications to run Windows 10 these include having enough RAM, enough hard disk space, a suitable processor, a graphics card/chip and a display that supports a minimum resolution of 800 x 600.
If your PC is not suitable you may need to upgrade or buy a new one altogether, so it's best to check with the experts first before parting with any of your hard-earned cash.
In addition, you will need to purchase the license for Windows 10, and this again could prove costly if you are upgrading more than one PC; and it's no good trying to save cash by upgrading to Windows 8, as this too will more than likely be coming to the end of it's support from Microsoft in the near future, it's better to look at the most recent version so you don't have to upgrade twice.
A cost effective solution for larger businesses is to purchase Microsoft 365 which combines Windows 10 and the Microsoft Office package; this includes all of your favourite programs such as Word, Excel and PowerPoint plus the latest in operating systems as a bundle which can be adapted to suit the needs of your business.
It's not just Windows 7 that is affected! Check our
2020 Ready
page to find out more.
Back Up Your Files
One thing that you do need to be thinking of whichever operating package you decide to switch to is to ensure your files and data are regularly backed up either by using an external hard drive or by using the Cloud storage system.
Dropbox is a cloud storage system that works with a variety of operating systems, including Windows and MacOS but to purchase this separately can be quite costly and if you opt for Office 365 it includes Cloud storage and is something we can advise you of in our tailor made support packages.
Contact Us
So, if you are a small to medium sized business who still uses Windows 7 and you are not sure of what your options are, why not contact us here or call us on 01282 506 616 to discuss your I.T Support needs.
We offer sensational I.T Support packages designed to suit your individual needs and can talk to you about your options for making the switch to a new operating system in time for the January 14th cut off date set by Microsoft.
We will look at which package is best for your business and ensure you have the best options available for backing up your files and maintaining cyber security, so your data is fully protected before, during and after switching over.
Contact us TODAY for a no obligation quote.