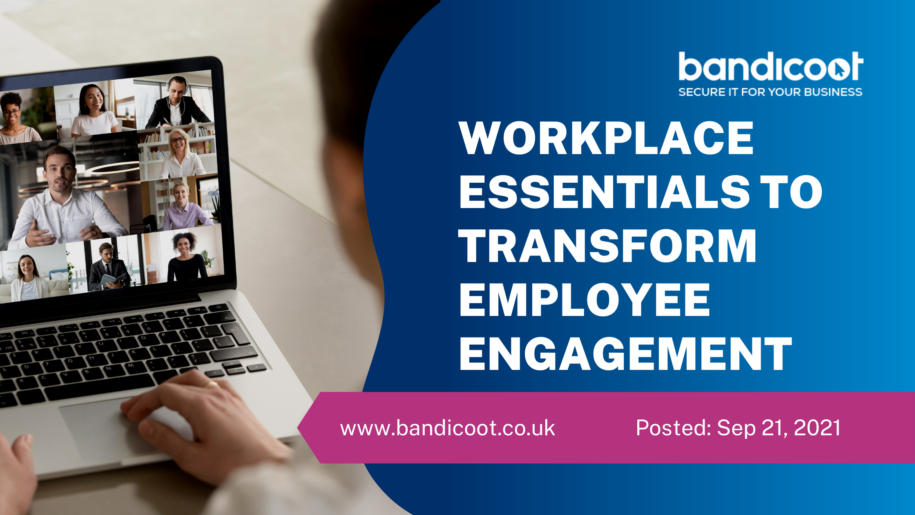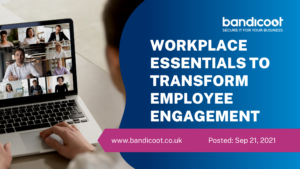 Dedicating time and effort to employee engagement has never been so high. With the pandemic wiping the majority of the normal out, we must look forward to a new workplace – a hybrid workplace.
Companies with engaged employees outperform those who don't by 202% and that highly engaged business benefits from a 10% increase in customer ratings and a 20% increase in sales.
In this blog, we are going to explore the nature of employee engagement, the workplace essentials employees require to stay engaged and how IT support benefits your company in the long run.
Ways Of Engaging Employees In The Workplace
We spend most of our adult life working for one organisation or another. Most of the organisation's structure and the workplace has changed over the years, the management is still hung on the same line of keeping the employees productive and engaged.
Pre and post-Covid there has been a shift in focus when it comes to the essentials needed to engage your employees. However, two of them for us will likely never change. We like to call these the fundamentals within the workplace. No matter what happens in the world these are the core needs employees need to stay engaged in the workplace.
Communication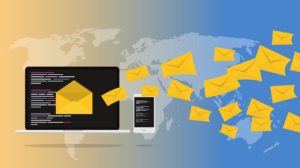 Encouraging proper employee communication can build a strong bond between your company and your employees. With proper communication, employees start to identify themselves with the company's vision, values, and goals. They are then enthusiastic about doing better and becoming more engaged in every aspect of their jobs.
That includes even your remote workers or employees who might spend most of their time out of the workplace. In fact, this is the population that's most vulnerable to feeling disconnected from the company. If a large part of your workforce does not come into the office every day and instead 1) works remotely from home, or 2) spends lots of time out of the office, you need to pay particular attention to what you can do to make sure your communication efforts reach those groups.
Good IT Support can keep your business connected. If you want to fuel engagement today and in the future, invest more time and intention in communication to combat uncertainty.
Appreciation
Far too many employees still feel undervalued and unappreciated at work. And this was before the new era of remote working pre-Covid. The feeling of being valued and appreciated are key drivers and essentials to combat employee engagement. In fact, If you want to make huge leaps in helping your employees feel more valued, there are two places to focus.
First, you need to make appreciation and recognition a part of how you do things. This might mean having "shoutouts" as part of your team meeting agenda. And secondly, It's key to teach people how to show appreciation. The more people see and experience genuine appreciation, the more likely they are to pay it forward.
The two above are core drivers of engagement that haven't changed throughout the pandemic, but some factors have. These aren't new to all of us they are just areas that have been elevated in importance because of the work shift.
Flexibility
Employees desire flexibility. In fact, research shows flexibility as one of the most highly valued essentials of the workplace. Technology and the right IT support is key to shifting your usual employee workweek to the new desirable hybrid week.
Migrating your system to office 365 will allow your employees to stay connected from wherever they desire to work. Flexibility isn't something new in the workplace working from home pre-Covid was an option, but the sense of trust always laid an underlying issue.
Now that employers and managers know it's possible, not from just a trust perspective but now technology aspect, it ensures the shift is a smooth as it can be.
The reason we are saying flexibility and not 'working from home is when everyone returns to work, the conversation should be redesigning how we work as opposed to where from. Where do you feel more engaged/where the best work gets done?
Supply The Right Equipment/Technology
One area that is overlooked but plays a part in employee engagement is supplying them with the right IT.
Organisations that are embracing hybrid working, technology has never been more important. Although it is important to embrace new technology, that does not mean abandoning the current set of equipment you currently have.
Integrating an IT support team may be all your equipment needs. By embracing new changes and security your employees will be able to leverage new technologies to not only increase engagement but stay connected from wherever they're working.
Employees are more agile and connected when they have the most up-to-date technology and security system in place. Employee engagement is high when their needs are met and empowered by IT. Maintaining a robust digital workplace is key to sustaining organisational performance.
Wellbeing
When we feel genuinely cared for, that generally inspires loyalty. Wellbeing is not just physical, but emotional and mental too. Make sure your employees take rest periods and develop some balance. Check-in with them regularly, one on one, so that they have a platform to discuss concerns.
How Can We Help?
Here at Bandicoot, we can transform your employee engagement by supplying your employees with the most effective workplace essentials to not only stay connected but, to increase their productivity and engagement.
With a range of three different IT support packages, we can highlight your workplace pain points/solutions and offer you the best package to suit your needs. Besides offering support we can also host and maintain your website, so you can focus on running your business! 😉
Our clients trust us to take care of everything, so they can get on with their day-to-day jobs. Check out our case studies, testimonials and Google reviews to see for yourself!
If you have any additional questions or queries, please don't hesitate to pick up the phone 01282 506 616 or send us an email on info@bandicoot.co.uk – we'd be happy to help!