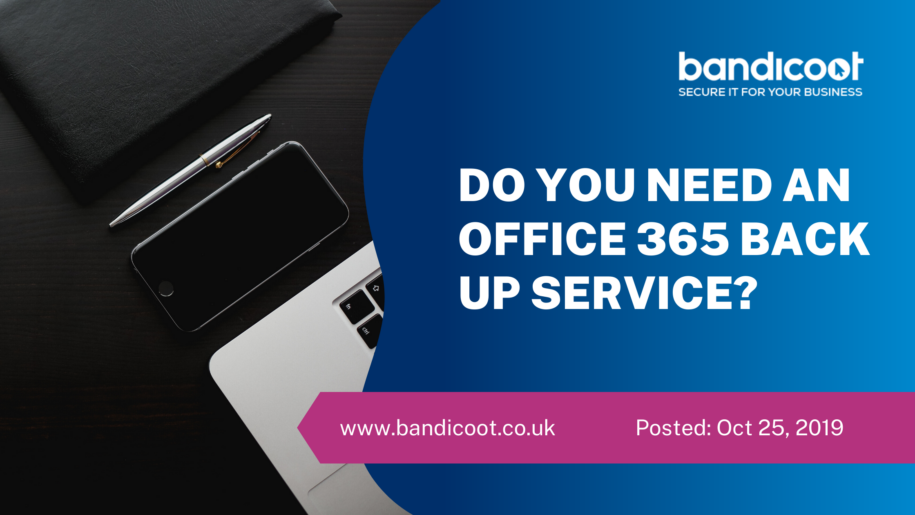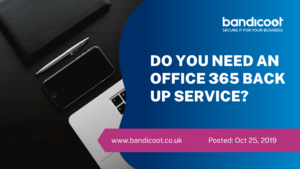 If there's one thing that an IT company will always say is the most important job to do that people often forget to do, is back up their data. With that in mind, do you need an Office 365 back up service?
Does Office 365 Back Up Anything?
It does yes, but not everything and also surprisingly enough for a Microsoft product it makes one of the classic back up errors. The back up functionality it does have is actually contained within Office 365 itself.
IT Companies, for as long as we can remember have always advised that there should be at least one back up and that is contained off site.
Established IT companies like us here at Bandicoot Towers will remember the 3-2-1 rule for backing up data; 3 copies of data and content on 2 different types of storage media, 1 of which should be stored off site.
It is like wanting to create a back up of photos contained in your phone in case it was lost or stolen, saving your photos in a folder called 'back up' and then storing that folder on your phone.
It's not even a flaw that no-one has spotted either, the terms and conditions on Microsoft's own website say "We strive to keep the Services up and running; however, all online services suffer occasional disruptions and outages, and Microsoft is not liable for any disruption or loss you may suffer as a result. In the event of an outage, you may not be able to retrieve Your Content or Data that you've stored. We recommend that you regularly backup Your Content and Data that you store on the Services or store using Third-Party Apps and Services."
How Does Office 365 Back Up Data?
Let's say for example that you inadvertently delete a word document, you can retrieve it, for a limited period of time (usually 30 days although the retention time for SharePoint is even shorter, at 14 days) from the recycle bin.
But what happens if you didn't know you'd deleted it? Or if some malware deletes lots of files so you would end up having to spend ages looking through the recycle bin?
The fact that Microsoft themselves advise users to backup data using a third-party app tells you that they are aware that they are not responsible for the protection of your actual data and content.
GDPR And Office 365 Versions
The GDPR legislation that was introduced in 2018 gives the public more control over how and when their data is used.
So, it is incredibly important that any company storing personal data is able to track and store it properly.
Although Microsoft did roll out some extra functionality in the form of privacy dashboards at the beginning of the year to help comply with GDPR requirements, there is something else that Office 365 does that has proved a little bit controversial with users.
In 2018 Microsoft introduced 'versions' which keeps a minimum of 100 versions of a document. This was thought to have been brought in because of the increase or collaborative working in Office 365, something that we did write about before if you'd like to find out more.
When a team or teams are working on a large project then sometimes it is useful to be able to go back and check older versions of notes or meetings, to find the idea that had been discarded months ago that now could prove to be a pivotal part of a project.
Initially it wasn't even possible to disable this function which caused some consternation with users, but thankfully Microsoft added the ability to opt out.
However, having at least 100 versions of a document could cause issues when complying with a GDPR request? Which is the correct version? Is the information on all the documents correct and are they stored securely?
As we mentioned earlier, by securing data within the application that leaves it vulnerable to any malware or ransomware attacks.
Also, having to store hundreds of versions of documents will have an impact on storage space so users would have to pay for more storage.
In Summary
So, yes, we do think that users do need an Office 365 back up service, via a third party. There are numerous options available to use and here at Bandicoot we provide Office 365 services that can help with all the various functions of the Microsoft office solution.
Get In Touch
If you would like a chat about Office 365 or any of the other I.T solutions we offer, then please don't hesitate to contact us.
We are more than happy to do all that we can to help, you can contact us via or online form here, email us at info@bandicoot.co.uk or phone us on 01282 506 616.