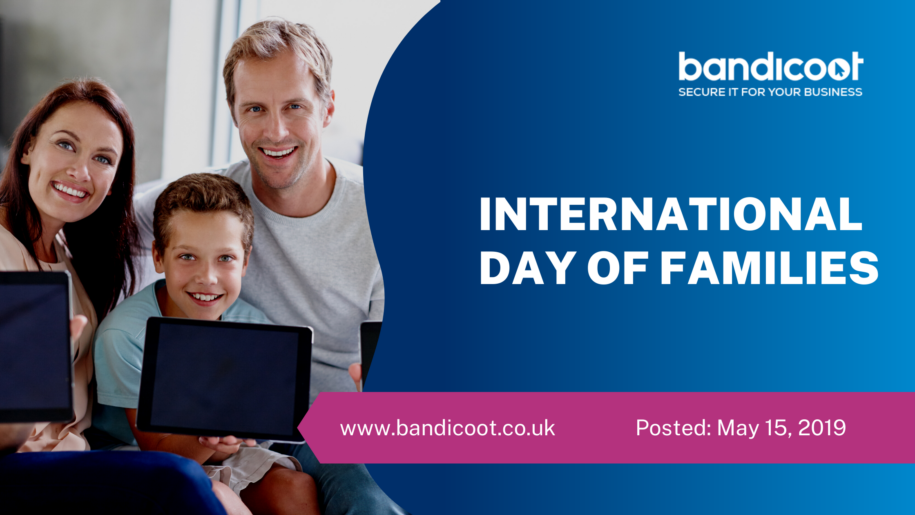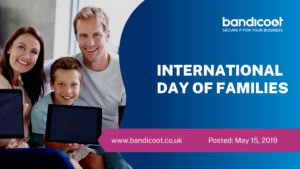 International Day of Families, is celebrated every year on 15th May, a day which by its very title, is designed to celebrate the meaning of Family, and there are workshops and events taking place across the globe, to mark this occasion.
This year's theme for International Day of Families is 'Families and Climate Action', which is particularly timely, as thousands of family members, including mums, dads, aunts, uncles, brothers and sisters, children and babes in arms, took to the streets of London on Sunday demanding climate action in a march to mark International Mother's Day.
Which is great and we are all for supporting raising awareness around climate issues but what about our families closer to home?
Here at Bandicoot we have a remarkable team and on International Day of Families we think it's only right to shout about how proud we are of the family culture we have created to bring you Sensational IT Support.
Want to find out more? Read on!
Meet the Bandicoot Team
The Bandicoot team is made up of small army of dedicated IT Professionals, all with years of experience and mountains of talent, which they share in abundance with each other and their many clients across East Lancashire.
The team is headed up by Stuart Bowen and his wife Anna, so we clearly meant it when we said we are a family here!
Stuart has worked in IT for over 25 years, starting the Bandicoot business way back in 2004, and for the mathematicians out there who quickly do the sums, yes, the business has just celebrated its 15th birthday!
During this time, the company has grown in size and stature to the one we know and love today, and has outgrown offices previously occupied in Bacup, moving to the beautiful Fernbank Business Centre, which Stuart also manages. When he's not working, you will find Stuart walking in the Lakes or possibly cooking, which he loves to do to relax after solving IT problems for the expanse of different clients that make up the extended Bandicoot family.
Anna is also a Company Director and is responsible for administration and HR; and having a background in the NHS, Anna brings a wealth of knowledge about building teams and creating a particularly inclusive culture.
Anna also enjoys going riding when not at work and has close links with the Burnley Bridleway Association who we successfully launched a new website for recently. You can read about the BBA website in our case study here.
At this point we should also point out that Anna makes way more cups of tea than Stuart, and if you don't believe us, check out the counter on the team page or check further down in this blog!
The rest of this close-knit team is made up of Tom, Matt and Oliver.
Tom designs wonderful websites and is pretty much responsible for designing the server monitoring system which provides an invaluable support resource to many long-standing clients.
You can read about the different IT Support packages here, and rest assured, we aim to treat all of our clients as individual members of the Bandicoot family, so a support package which is right for one organisation might not work for another, a bit like organising the family takeaway on a Saturday night, everybody wants something different, naturally!
Tom also makes more tea than Stuart….
Matt is our resident web developer.
At this juncture, it is worth pointing out to anybody considering a new website, that web design and web development are two very different animals so to speak, as is the content for your website, but don't worry, Matt here can guide you through, and before you know it you will have a wonderful website, optimised to perfection and soaring up the search engines!
Both Matt and Tom enjoy video gaming, and Matt definitely makes great tea…. By the way, anybody know where Stuart is…
Oliver is the newest member of the Bandicoot family. He's a real stickler for maintaining the problem counter we have for customer server issues at zero and is a whizz at solving client IT computer issues.
Oliver deals with most of the incoming calls and is really good at establishing where the issue lies if you have problems with your computer. You can also speak to him about App design, Phone Systems and IT Security, something we are really keen on. If you don't have a safe network, your overall business is at risk, so speak to us TODAY about first-class IT Security systems.
When he's not answering customer calls you will find Oliver out in the fresh air mountain biking. Oliver also makes his fair share of tea for the team…
Stuart
[coffee_count_monthly_total username="stuart"]
Anna
[coffee_count_monthly_total username="anna"]
Tom
[coffee_count_monthly_total username="tom"]
Matt
[coffee_count_monthly_total username="matt"]
Oliver
[coffee_count_monthly_total username="oliver"]
Approachable and Understanding IT Professionals
As you have probably guessed, we pride ourselves on being a really approachable, and above all, understanding IT Crowd. We are not hauled up in a basement, we won't tell you to 'switch it off and on again', (well we might, but only in the most appropriate circumstances), and we will offer to make you a cup of tea when you come to visit us at the office at Fernbank.
Well Anna, Tom, Matt and Oliver definitely will, Stuart might need some prompting on that one..
Contact Us
So, if you are a small to medium sized business who needs sensational IT support, wonderful website design, creative content or advice on Cyber Security, or, if you need information on GDPR or which is the best software package for your needs you can contact us here or call us on 01282 506 616 to discuss your requirements.
You will certainly be welcomed into the Bandicoot family which might not be international, but it certainly covers the whole of East Lancashire and beyond.
And when you've had enough of talking about your IT problems, (which by the way, the majority of the time we can actually solve whilst on the phone to you), we can have a conversation about all sorts of topics, including walking, horses, video games or mountain biking.
Which is what happens in a family really, and what makes our IT family particularly welcoming.