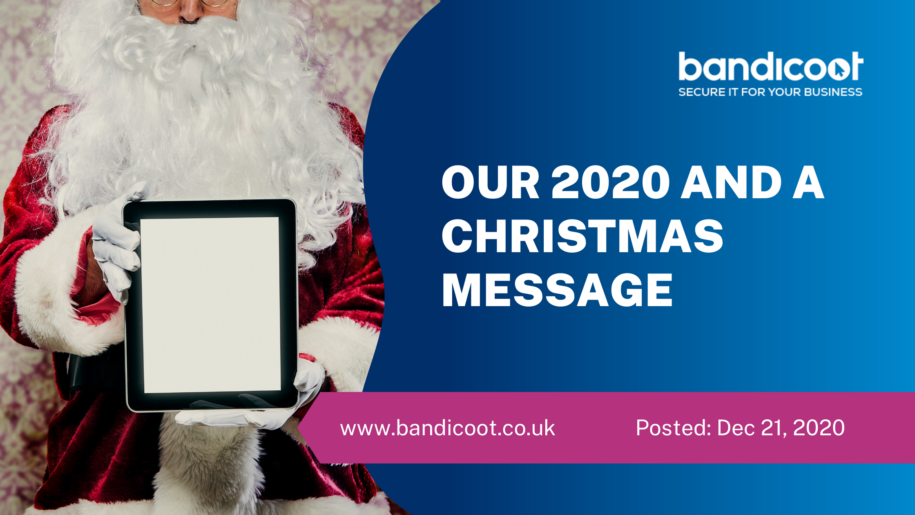 It would be fair to say this year has been a tough one… many businesses have struggled and of course, there has been the terrible loss of life for many families. 2020 seems to be the year that went on and on… but here we are, finally on the edge of a fresh year and just about ready to celebrate Christmas 2020, our first socially distanced Christmas. It's the perfect time for a little reflection on what we got up to this year and what we have in store for 2021.
It Wasn't All Bad In 2020
Although 2020 will be remembered for a long time as one of the worst years in British history, in our little bubble at Bandicoot HQ we had quite a few successes and it wouldn't be fair on our hard-working team to not acknowledge that. They've certainly earnt their keep this year!
The first part of the year we were incredibly busy supporting our clients convert to homeworking settings as the country went into lockdown. So many businesses have struggled this year but as an IT support business, our skills have been in demand as the world went remote and we're incredibly grateful to have been so busy.
Thankfully, we had already moved to Connectwise (CRM) last year so our Technicians were easily able to deal with tickets cohesively and efficiently from home. Although the team worked well from home, our Technicians like coming into work and missed it! Tom said he didn't realise how much it was possible to miss a building!
Despite 2021 being a challenging year, the time at home gave us a chance to consider the direction we want to drive the business in and who our ideal customers are. We came up with our IT Support Packages Giga, Tera and Peta and created our archetypal client "Mike" who features on our headline video for the new website we also launched this year. So far our clients are loving the new IT support packages.
We also branched into the world of direct marketing with our Security Mouse Mat campaign. We have sent our Security Mouse Mat to lots of target clients, providing top tips on what to consider before responding to emails.
Internally we have been working hard to get our onboarding right and are gearing up for a surge in clients. We have taken on another Apprentice IT Technician Sean who is currently studying to become a Level 3 Infrastructure Technician at Burnley College and Oliver has completed his apprenticeship and become a fully qualified IT Technician! Thankfully Oliver seems to like working in the Bandicoot family as much as Tom does and with comments like "Dad's home!" as Mr Bandicoot pulled into the car park, we're hopeful that he'll stick around a good while longer.
Whilst Christmas 2020 at Fernbank (the Bandicoot Family home) won't be quite the same as usual, the team put up the tree in the entrance hall as usual (under Tom's close supervision). We will be having socially distanced pizza, Christmas music and our usual Pound shop Secret Santa where we all put an inexpensive gift in the Santa sack, and we all pull one out. "Dad" might even put a few extra presents under the tree this year to cheer everyone up!
What Will 2021 Hold For Bandicoot?
2021 will be the year will be when we get into our stride with our marketing campaigns. We aren't always very good at promoting the great work we've done so we want to ensure our social media, blog and website all reflect how hard our team all work on our services. Of course, we also want to get across the multiple benefits our services have for customers – especially our IT support packages.
We predict we will be busy next year with our hosting and maintenance services – we have already started turning our attention to these services, packaging them up for clients who want a safe pair of hands to host their website and someone with coding skills on tap to make changes.
We are even recruiting another Apprentice to support Tom as this seems to be a popular service and one we think will be in greater demand in 2021.
One big goal for next year – we are determined to find ways to celebrate our successes, something we have been held back on in 2020 for obvious reasons.
Hopefully, we will be able to go out and celebrate properly on "Dad"!
A Message To Our Customers & Staff
This year we are more grateful than ever for the support of our clients. In a year where businesses of all sizes have failed, we are thankful to be here and thriving as a small business. We couldn't do this without the continued support we receive.
So, thank you each of our clients and to our team of technicians who work so hard to keep our customers happy!
We wish you all a very Merry Christmas 2020 and a Happy New Year!
Let us hope that 2021 is an easier year for all of us.