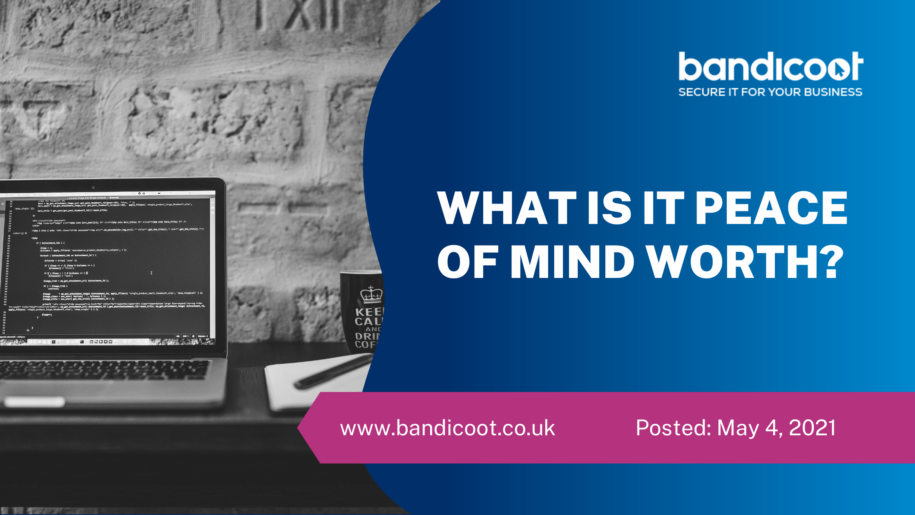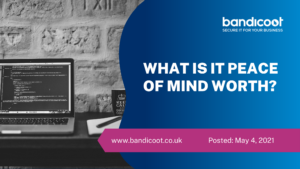 The only way to protect your business and ensure your technology is reliable is to have good IT support in place. But this comes at a cost. Either you need to have your own in-house resource, or outsource your IT support.
If you're an SME, outsourcing may seem like another expense on your balance sheet that adds to your financial pressures. But you should look at it in the longer term. Outsourcing your IT can be a sound, strategic investment.
You're paying for a level of expertise that you might otherwise not easily find. But at the same time, you're not adding to your payroll. Outsourcing keeps things flexible but provides a reliable support structure.
Most of all, it can give you IT peace of mind, for several good reasons.
Security
There are an estimated 65,000 cyber attacks on SMEs in the UK every day, and 4,500 of these result in breaches to security.
This sort of risk isn't going away, but with the right IT support package, you can do a lot to mitigate it. A progressive approach to IT security is proactive rather than reactive: monitoring your systems and preventing problems occurring in the first place.
Lowering your IT security risk is one way of getting IT peace of mind.
Compliance
If your business is using IT, then it's going to be managing data.
This requires you to be compliant in how you gather, store and use personal data. You certainly don't want to be in breach of the Data Protection Act.
But this is about more than staying on the right side of regulations. If you suffer a data breach your reputation can take a long-term hit. The implications could be catastrophic as you lose customers and income.
IT support makes sure you stay on the right side of regulations.
Productivity
Technology should be an enabler, driving efficiency and innovation. But too often it becomes a barrier to productivity.
Why? Because the systems and software employees that employees use are slow, out of date and unreliable.
Downtime is costly for SMEs and demoralising for their staff. If you want a motivated, productive workforce, you need to make sure the tools they're using will work properly and consistently.
With the right IT support in place, your workforce can maximise the benefits of technology.
Resources
Having IT support that's outsourced means you're not committing resources in-house.
The infrastructure of your business is essential, but you want to get the balance right when it comes to managing it and looking after the stuff that brings in customers and revenue.
If you can leave the tech stuff confidently in the hands of experts, you're free to focus your resources on other areas.
Full Support
Choosing whether to outsource your IT isn't about making a difficult decision between full or partial IT support.
Your outsourced provider should be able to offer you a package that gives you comprehensive support, including remote monitoring and unlimited helpdesk access.
This way, even though you're outsourcing, the benefits are as if you had an in-house resource at your fingertips.
Forward Thinking
Keeping your systems and software up to date isn't about catching up, it's about staying ahead of the curve.
This is important if you want to harness the potential of technology for your business.
Your IT support provider should apply their depth of knowledge to ensure you're making the most of what's available, and staying up to speed with all the latest developments in IT.
Cost-Effectiveness
Outsourcing can save you money. This still applies when you select an IT support partner who offers you a high level of expertise and a comprehensive support package.
Firstly, you're not committing resources in-house to building your own dedicated team. Recruiting talent is costly, and retaining it can be costlier still.
Secondly, you're getting much more flexibility by outsourcing, making it easier to manage your infrastructure costs.
Thirdly, there's the ongoing value of having the assured support that ensures your systems are running efficiently while protecting your business from the risks of cyberthreat and cybercrime.
Finally, outsourcing can bring you added value by providing a proactive, tech-savvy partner for your enterprise. This gives you strategic benefits, helping to drive your business forward and embrace innovative processes and systems.
Can You Put a Price on IT Peace of Mind?
The short answer is yes, once you find the package to suit you. Operating without a safety net is never a good idea when it comes to technology.
But what if the safety net brought added benefits, which could help your business grow and thrive, as well as protect it?
Find out more about our packages and the best way for you to outsource your IT support. Call us on 01282 506 616, email us at info@bandicoot.co.uk or complete our contact form and we'll be in touch as soon as possible.