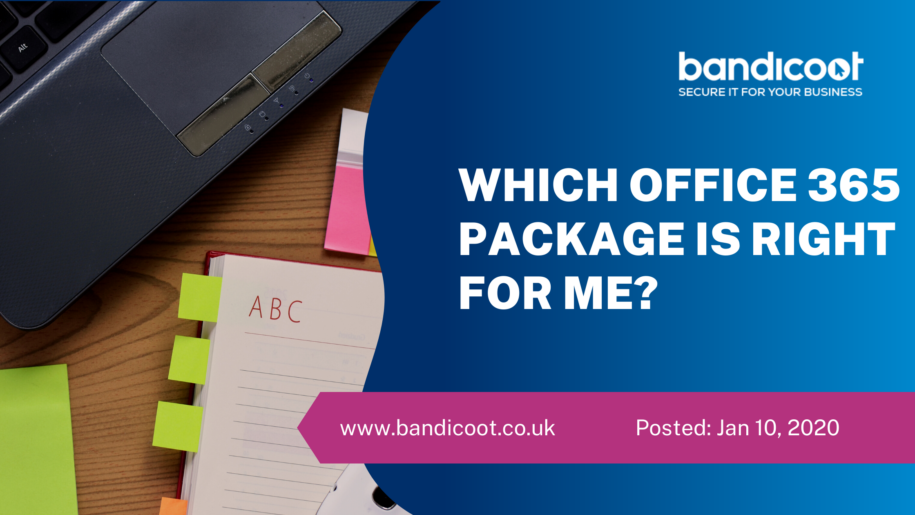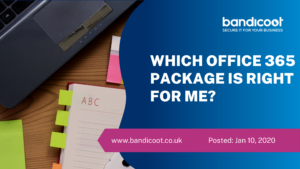 Here at Bandicoot Towers we are a Microsoft partner and big fans Office 365. If you have looked into getting Office 365 you may have noticed that there are several versions available and may be wondering which package is right for me?
Let's start by taking a look at the different type of packages available, we have made a handy Office 365 comparison sheet here but we will go into more detail so you can be sure to choose the best version to suit your business needs.
Firstly, if the number of mailboxes you need is to be 300 or less then one of the three 365 Business packages detailed below, will be all that you require.
Office 365 Business Essentials
This 365 package is the cheapest of the versions you can get, with a 50gb mailbox for Enterprise Exchange Online and SharePoint Online, OneDrive for Business, Teams and Skype for Business.
The licence is usually less than £5 a month, the downside to it and the reason it is the cheapest of the 365 options, is that you only get online versions of the Office software packages like Word and Excel which don't have as many features as the desktop versions.
At under £5 though it is definitely value for money if you are looking for all the functionality of Exchange Online and don't need to use the desktop software applications.
Office 365 Business
Office 365 Business is almost the opposite of the Business Essentials package. You get full desktop versions of the Office Applications but not the Exchange Online functionality.
You do get Microsoft Outlook but would need to use an existing email provider. It isn't the best package if you are looking to work collaboratively either as it does not include SharePoint or Teamwork.
However, if you already have an email provider that you are happy with and are mainly interested in being able to use desktop version of the Office Applications then this could be ideal for you.
Price wise you are looking at £9-£10 per month.
Office 365 Business Premium
As you may have deduced from the use of the word 'premium' this is the best of the Business 365 packages. It combines the best features from both Office 365 Essentials and Office 365 Business.
On top of this you also get a plethora of extra features with access to these applications; Microsoft Bookings, Delve, Microsoft Flow, Microsoft StaffHub, Microsoft Invoicing, Outlook Customer Manager and MileIQ.
At just under £12 per month it is the most expensive of the 365 Business packages but the amount of functionality you get for your money is top notch.
Office 365 Enterprise & Pro Plus
If your number of mailboxes is going to be over 300 then you need to look at a 365 Enterprise package in conjunction with one of the 365 Business packages.
Along with the unlimited mailboxes option, they also offer some additional functionality and applications that may find useful, such as Microsoft Access that is included with Office 365 Pro Plus and some of the Enterprise versions.
If you have a look at our Office 365 Enterprise comparison sheet you will easily be able to see what extra you will get in conjunction with a Business 365 package.
Get In Touch
Here at Bandicoot Towers we have put together an easy to read and understand guide to Office 365, which you are more than welcome to read, download and print.
If you are still not entirely sure which of the 365 packages is best for you then we will be more than happy to do all that we can to help you.
As a Microsoft partner in Burnley we know all there is to know about 365 and can spend time with you to get to know and understand your business so that we can provide you with the most suitable package for you.
We won't just abandon you once your accounts have migrated either! We will look after your 365 accounts going forward and take away the stress and any possible disruption that is usually associated with migrating hundreds of mailboxes and software upgrades.
For larger businesses we can also a discount on the standard Microsoft Office 365 package prices.
So, if you would like anymore information or would like some of your questions answered then please do not hesitate to get in touch with us.
Our friendly team can be telephoned on 01282 506 616 or you can contact us via our online form here.